Branch is a Fintech startup that offers loans to its customers by using smartphone data to assess creditworthiness. Branch operates in multiple countries, including Nigeria, Kenya, Tanzania, and India. This company is increasingly growing, and they just partner with Visa.
Branch loan is accessible through their available loan apps. At the time of writing, the Branch Loan app has a rating of 4.5 on the Google Play Store with over 10M installs and 400K reviews. This shows that the Branch Loan app is top-rated.
What makes Branch Loan very popular is its repayment policy. Typically, there are repayment penalties when you borrow loans for a specified period after the due date and cannot pay. This means that you will have to pay a recurring fee as a penalty for late repayment, and the amount increases for as long as you don't pay.
There is no recurring fee with the Branch loan, i.e., the initial amount you are to pay back remains the same. Without further ado, this article shows you how to apply for a Branch loan; how to download the Branch loan app, available USSD codes, interest rates, and other information you need to know.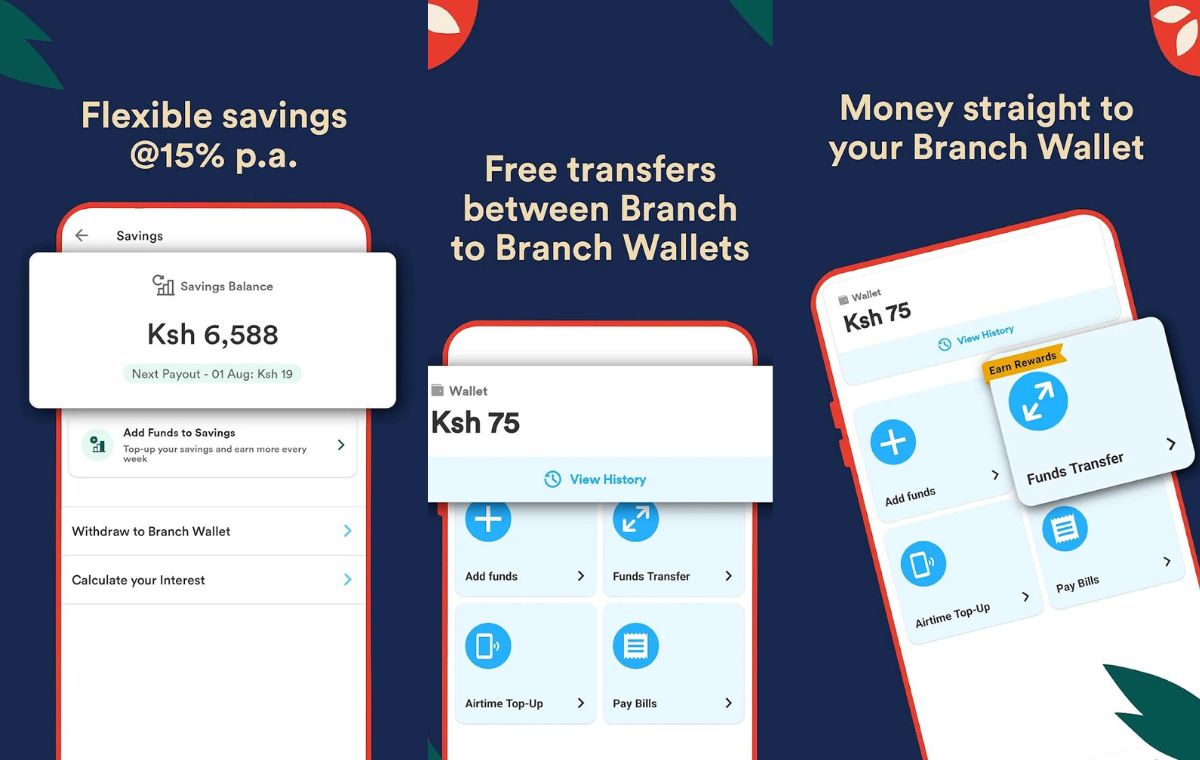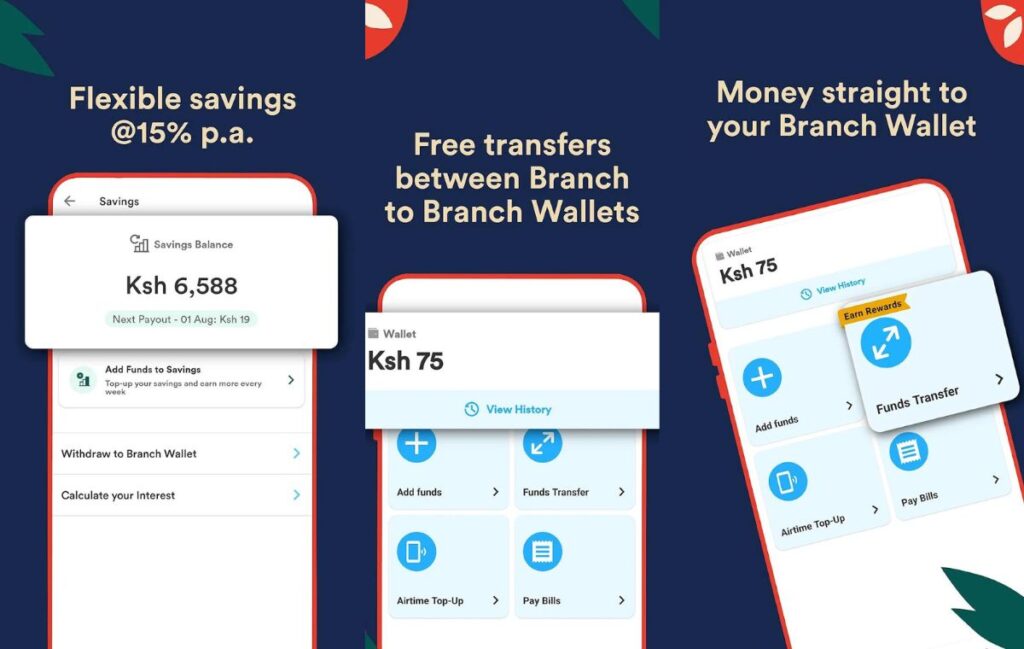 Branch loan requirement
For Nigerians
To qualify for loans, all you need is an Android smartphone, your Bank Verification Number, and your account number.
For Kenyans
To get Branch loans, you must be at least 18 years old with a valid national identity number and must own a Safaricom phone number with access to M-PESA service or an active Facebook account.
Generally, the app must be permitted your phone's data. Your phone's data determine your creditworthiness and if you would be given a loan or not.
How to download the Branch Loan App
Downloading the Branch Loan App is not a difficult task at all. All you have to do is;
Head over to the Google Play store and search for Branch. The required Branch loan app for your country will pop up.
Alternatively, you can visit this link to install the app on Google Play Store.
Install the Branch Loan app
Launch the app for the first time, then, follow the onscreen instructions to Register.
You will be asked to provide information like your BVN, M-PESA account details, and ID card depending on your country's requirements.
Provide the necessary details and you will be taken to the Homepage.
Request your desired loan and the loan will be issued to your bank account or M-PESA account within minutes.
Generally, your phone's data, including your SMS, apps installed, location, and details on your phone, are used to calculate your loan worthiness. Don't be afraid if someone might steal your data; Branch uses end-to-end encryption, and they do not share your information.
Branch USSD Code
Unfortunately, Branch does not offer any USSD Code services for its loans. You can only request loans through its official mobile app.
Branch Loan Interest Rate
Like many financial organizations offering loans, Branch receives a small amount of money from lending you money called interest. The interest you will pay is dependent on the interest rate and the duration of the loan.
The branch loan interest rate is between 1.7% to 24%. But for starters, the maximum amount loanable is NGN 10,000 or KSH 10,000, and the interest rate is 20%. For example, if you lend NGN 10,000, you will pay back NGN 12,000 as interest.
Branch Loan Amount Limit
The Branch Loan app's minimum loan amount is NGN 2,000, and the maximum loan amount is NGN 500,000 in Nigeria. In Kenya, the minimum loan amount is KSh 250 and KSh 70,000. What makes the Branch Loan app stand out is that there are no late or rollover fees.
Branch Loan Repayment Duration
The Branch Loan offers loan terms ranging from 4 to 52 weeks. So, the loan is repayable for a month, two months, six months, or 12 months.
Branch Late Repayment Penalties
Branch does not charge late fees or rollover fees. The amount you are to pay within your chosen loan duration is what you will pay if you cannot pay back within that time.
I don't advise exceeding your repayment period before paying back your loan. If you did not pay your amount back on time, this will reduce your creditworthiness and limit the maximum amount you can borrow.
Branch Loan overpayment
Branch has its customized wallet. Whenever you receive any loan or want to pay it back, your money first goes to your wallet. If there are any overpayments, the funds will be available in your wallet, and you can withdraw this money back at any time.
Repay Branch Loan Using Branch Paybill Number
For Kenyans, you can repay your Branch loan using Branch Paybill. Follow the instructions below to repay your loan using Branch Paybill;
Navigate to M-Pesa in your Safaricom menu on your phone
Select Lipa na M-PESA
Choose the Paybill option
Enter the Paybill number 998608
For the account number, enter the M-Pesa number with which you registered.
Enter your repayment amount
Enter your M-PESA pin
Confirm that all details are correct and press 'OK'.
How to repay your Branch Loan for Nigerians
To repay your loans, you are given four options. You can pay via bank transfer, Branch Wallet, Debit card, or Cash. The process is straightforward,
Open your branch loan app and go to the homepage.
If you have any loan that has not been paid back available, it will appear in the homepage. Tap on it to make your payment
Choose your desired method of payment
Your loan payment status will show up after payment, either successful or any other type of message.
Branch Loan Contacts
Website– Branch.co
For Kenyans
Phone number – +254 711 995555
Instagram– https://Instagram.com/branch_co
Twitter – https://twitter.com/branchkenya
Address – 10th Floor, Reliable Towers, 11 Mogotio Road, Off Chiromo Lane, Westlands, Nairobi.
For Nigerians
Instagram– https://instagram.com/branch_ng
Facebook– https://Facebook.com/branchnigeria
Twitter– https://twitter.com/branch_ng