CashNow is an Android mobile loan app offered by PayLoan Investment. The CashNow loan app is available for Android users alone, and the users of this app can request loans up to KSH 200,000.
The CashNow app is available on the Google Play store, and you can get more details and benefits of the app on the CashNow official website. As of the time of writing, the CashNow loan app is accessible to Kenyans on the Google Play Store. The app has a rating of 4.8/5.0 with over 14,000 ratings and over 1,000,000 downloads.
The rest of this article shows you everything you need to know about the CashNow loan app and how to get loans quickly with the app.
CashNow Loan App Requirement
To get CashNow loans, you must be at least 18 years old with a valid national identity number and own a Safaricom number with access to an M-PESA service or an active Facebook account.
Generally, the app must be permitted your phone's data. Your phone's data determine your creditworthiness and whether you would be given a loan or not. Also, when you start using the app, you need to possess a good credit score to unlock more loan amounts.
How to download the CashNow Loan App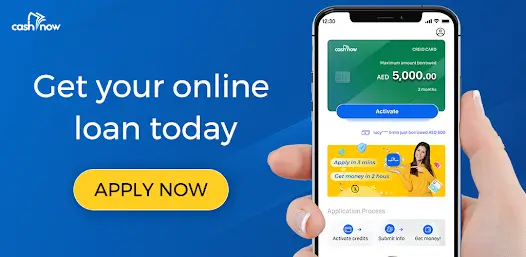 Downloading the CashNow Loan App is not a difficult task at all. All you have to do is;
Head over to the Google Play store and search for CashNow. The required CashNow loan app will pop up. The app is only available for Kenyans.
Alternatively, you can visit the link above to install the app.
Install the CashNow Loan app
Launch the app for the first time, then, follow the onscreen instructions to Register.
You will be asked to provide information like your M-PESA account details for payment, phone number for SMS verification, and national ID card to prove you are above 18, etc.
Provide the necessary details and you will be taken to the Homepage.
Request your desired loan and the loan will be issued to your M-PESA account within minutes.
Generally, your phone's data, including your SMS, apps installed, location, and details on your phone, are used to calculate your loanworthiness. Don't be afraid that someone might steal your data; CashNow uses end-to-end encryption, and they do not share your information.
CashNow USSD Code
CashNow does not offer loans using USSD codes. The only means of obtaining a loan is through their mobile app available on Google Play Store.
CashNow Loan Interest Rate
As one would expect, there is always an interest rate to be paid back together with the loan amount whenever you borrow loans. CashNow overs a minor charge on the loan requested, which should be paid back within a stipulated period.
The CashNow loan interest rate is between 5% to 30% depending on the duration you selected. But for starters, the maximum amount loanable is KSH 10,000, and the interest rate is 20%. For example, if you borrowed KSH 10,000, you will pay back KSH 12,000 as interest.
CashNow Loan Amount Limit
CashNow Loan app's minimum loan amount is KSH 3,000, and the maximum loan amount is KSH 200,000 in Nigeria. Your loan is disbursed to your M-Pesa account within 2 minutes.
CashNow Loan Repayment Duration
CashNow offers loan terms ranging from 30-180 days. So, the loan is repayable for a month, two months, and six months. Don't forget that the longer the duration, the higher the interest.
CashNow Late Repayment Penalties
Like many other mobile loan providers, CashNow incurs an extra amount on loans borrowed if you refuse to repay your loans after the selected duration. The CashNow late repayment fees are not specified on the app information and websites. When we do know the repayment fees, we will update this article.
CashNow Loan OverPayment
If you mistakenly overpaid your CashNow loans, the extra amount will be paid back to your M-Pesa account within 5 working days. If the amount is not repaid, contact their customer support.
Repay CashNow Loan Using CashNow Paybill Number
You can repay your CashNow loan using Branch Paybill. Follow the instructions below to repay your loan using the CashNow Paybill number;
Navigate to M-Pesa in your Safaricom menu on your phone
Select Lipa na M-PESA
Choose the Paybill option
Enter the Paybill number 942312
For the account number, enter the M-Pesa number with which you registered your CashNow loan.
Enter your repayment amount
Enter your M-PESA pin
Confirm that all details are correct and press 'OK'.
CashNow Loan Contacts
Facebook

– https://facebook.com/CashNowKE/

Twitter– https://mobile.twitter.com/CashNow12891674
Website– https://cashnow.co.ke/
Email– [email protected]