Some institutions or financial providers usually ask for your certificate of good conduct before you can access their services. Some institutions request your Affidavit of good conduct.
If you are seeking jobs in Kenya, you will most likely need a Certificate of good conduct. Without a certificate of good conduct, you won't be able to get a government job in Kenya. The private sector is progressively following suit, with most firms making it a requirement for job applicants to have a police clearance certificate – one of the numerous documents that have become required to secure employment.
In this article, we will explain how to get your certificate of good conduct and how to download it.
Read Also: How to know if your passport is ready for collection
How to Register for eCitizen
Before you will be able to get your certificate of good conduct, you need to register on the eCitizen platform. The eCitizen portal is the only website that allows you to apply for many government-approved certificates.
To apply to register for eCitizen, follow these steps;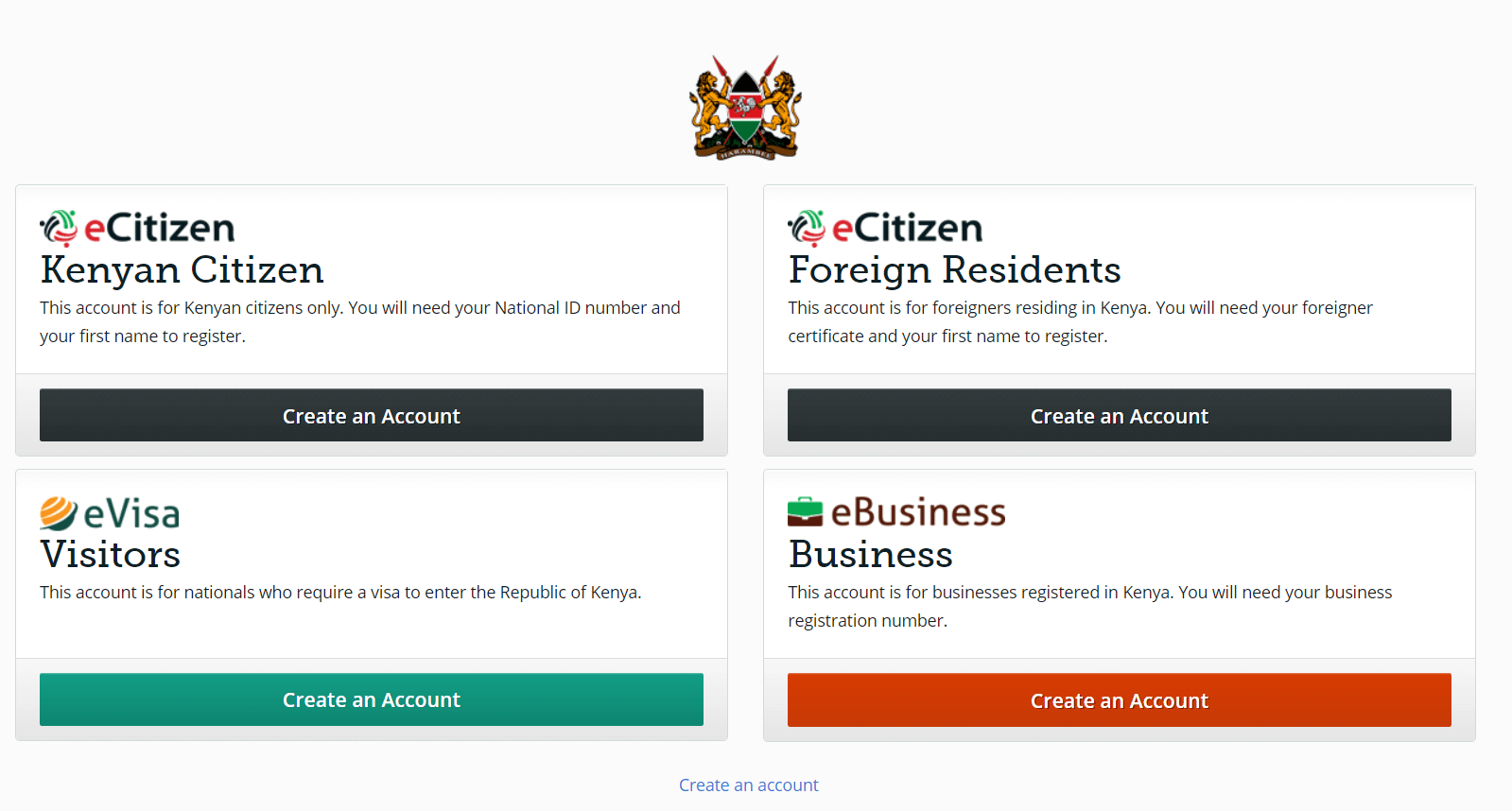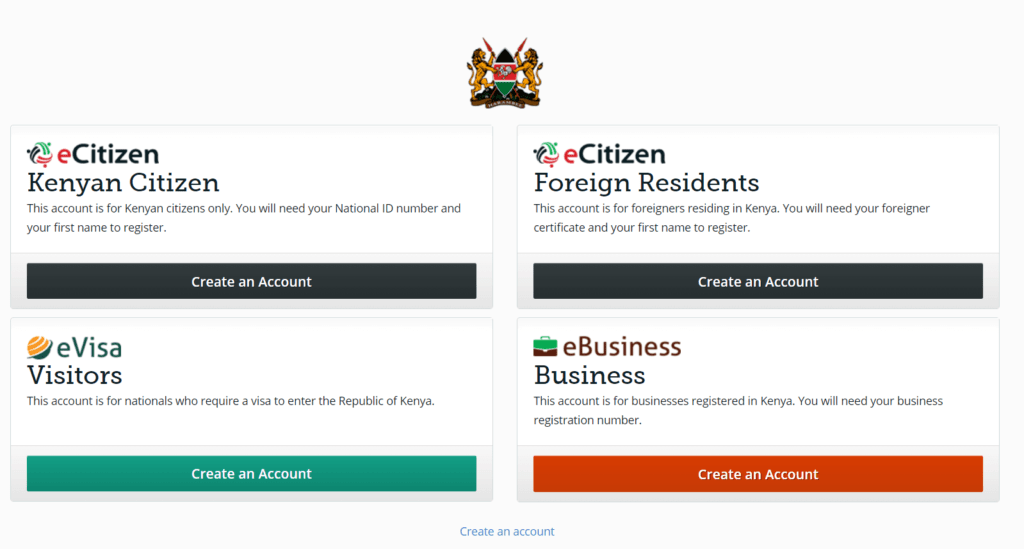 Visit the eCitizen portal registration page.
There are 4 different accounts you can create depending on the type of citizen you are. There is the Kenyan Citizen account, which requires your national ID number and your first name. The other three are self-explanatory. Foreign Resident for foreigners in Kenya (this account requires your foreigner certificate and first name), Visitor for nationals who require a visa to enter the Republic of Kenya, and Business for businesses registered in Kenya (You will need your business registration number).
Click on the right account depending on the type of citizen you are.
For most people, you will choose the Kenyan citizen account. When you click on this, you have the registration stage.
The first stage requires your ID number and the first name as your ID and then click on Validate. The website validates that your ID is correct, then takes you to the next phase.
The next phase requires you to register your email address and create a password. A message will be sent to your mail for verification.
The third stage requires you to also verify your phone number. When you enter your phone number, a message, and a code is sent to your number for validation.
The last stage requires you to upload your photos. A passport photograph and a selfie-taking by you are not quite long.
How to Apply for a Certificate of Good Conduct
Now that you've registered on the eCitizen portal, you can now apply for a certificate of good conduct. To do this,
Visit the eCitizen login page and enter your login details to proceed.
Once you are logged in, Click on "Get Service" found under the Directorate of Criminal Investigation.
Next, navigate to "Our Service" and click on "Police clearance certificate".
On the next page, you are requested to choose, if you are requesting a certificate for yourself or a person under the age of 18. Choose the option that best suits your request.
The next page shows you all the required documents to register, all the necessary steps to take as well as the fees payable. The amount you are to pay at the time of writing is KSh 1,000 with an additional KSh50 for the convenience fee, which totaled KSh1,050.
The next step is to choose your fingerprint-preferred location. Note that you will visit this location to input your fingerprints.
Once done, you will be required to pay for the service on the next screen. The payment methods available are MPesa, Debit/Credit/Prepaid cards, EazzyPay, Pesalink, Equitel cash/KCB, and Airtel Money.
Once the payment is successful, you will be sent a C24 form and an invoice.
Download and print the two documents on both sides of an A4 paper.
How to check if your Certificate of Good Conduct is Ready
If you follow the procedures and you've taken your fingerprints at the location you chose, you should wait for two to three weeks. After this period, your certificate of good conduct will be ready. If you are not that patient and just want to check if your Certificate of Good Conduct is ready, follow these procedures.
Go to the eCitizen portal and log in
Under Directorate of Criminal Investigation, click on "Get Service".
To view the downloadable file, click on the reference number (this begins with PCC). When you click on this link, you will see all the available files.
You will see downloadable files in which your Police Clearance certificate is among them.
You have the option to either download them or print them (if your device is connected to a printer).
The Certificate of Good Conduct looks exactly like the image below.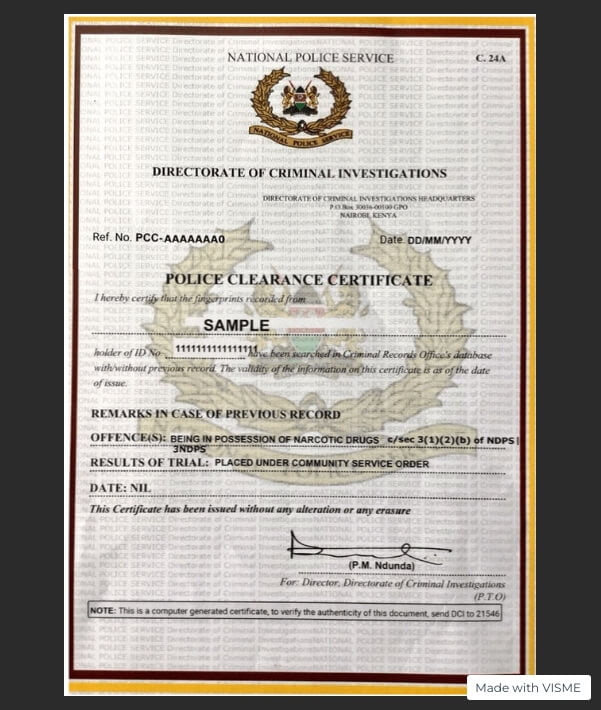 If there is a longer delay in the processing of your certificate of good conduct, contact the necessary authorities via email or phone number. The phone number and email can be found on the eCitizen website.