When you go to the bank to open a DOM account here in Nigeria, the requirement is similar to opening a Nigerian account. You will be asked to come with your KYC which is your National Identity card, BVN number, and your utility bill. What many people find hard to get is a Guarantor and also an initial deposit which is usually about $50 – $100. When you want to open a DOM account in Nigeria, you will be asked to come with two references and also an initial deposit.
In this article, I will show you how to open a Wema DOM account without visiting the bank or providing any guarantor, whatsoever. With this DOM account, you can receive as much money as you want and you don't need to deposit any dollars in the bank.
The Wema DOM account you will be opening is the Wema DOM Lite Account. This account comes with a lot of features and you don't need to go to the bank to create the account.
Read Also: How to Get USD, EUR, and GBP Accounts in Nigeria
Requirements to Open an AlatByWema Domiciliary Lite Account
Like every other banking platform, you will have to provide some information about yourself, in order to create a DOM account. The requirements to open a Wema DOM Lite Account are as;
Bank Verification Number (BVN)
Filled out account opening form (Online via mobile Application)
Valid ID Card (Driver's License, International Passport, National Identity Card, Voter's Card)
Smartphone (where you will install the AlatbyWema App)
Selfie and video of yourself.
Watch Video – How to Open a Wema DOM Lite Account
The benefit of Wema DOM Lite Account
A convenient channel for receiving international remittances on a regular basis.
A safe and simple way to store and save money in foreign currency.
There are no limits on the amount of money that can be transferred inward.
Features of the Wema DOM Lite Account (Alat By Wema)
The Wema DOM Lite Account comes with exciting features that other banks will not give you. The Alat By Wema app is a leading digital banking platform with a lot of features including the ability to withdraw up to $2000 or its equivalent daily. Here are all the features of the DOM account;
There is no minimum opening or operational balance.
The maximum cash withdrawal amount is $2,000. A withdrawal fee of 0.05 percent of transaction value, up to $10 per transaction.
No cash deposits are permitted.
Access to a USD Mastercard Debit Card for online dollar payments/subscriptions and withdrawals from ATMs across the world.
Upgrade to Wema Domiciliary Plus is possible with the submission of full KYC documentation.
Allows for the formation of foreign currency investments via a fixed deposit or USD Goals on the ALAT by Wema app.
Foreign currency cash withdrawals and transfers are available at all of our locations.
The account can be upgraded to a Non-export Domiciliary or Domiciliary Plus account to allow for foreign currency cash deposits with the presentation of two relevant references and a utility bill.
Read Also: Top Affiliate programs that accept Nigerians
How to Create AlatByWema Domiciliary Account
Step 1: Install the AlatbyWema App
To create a Wema Domiciliary account the first thing you will need to do is download and install the AlatByWema Application on your Android or iPhone. To do this,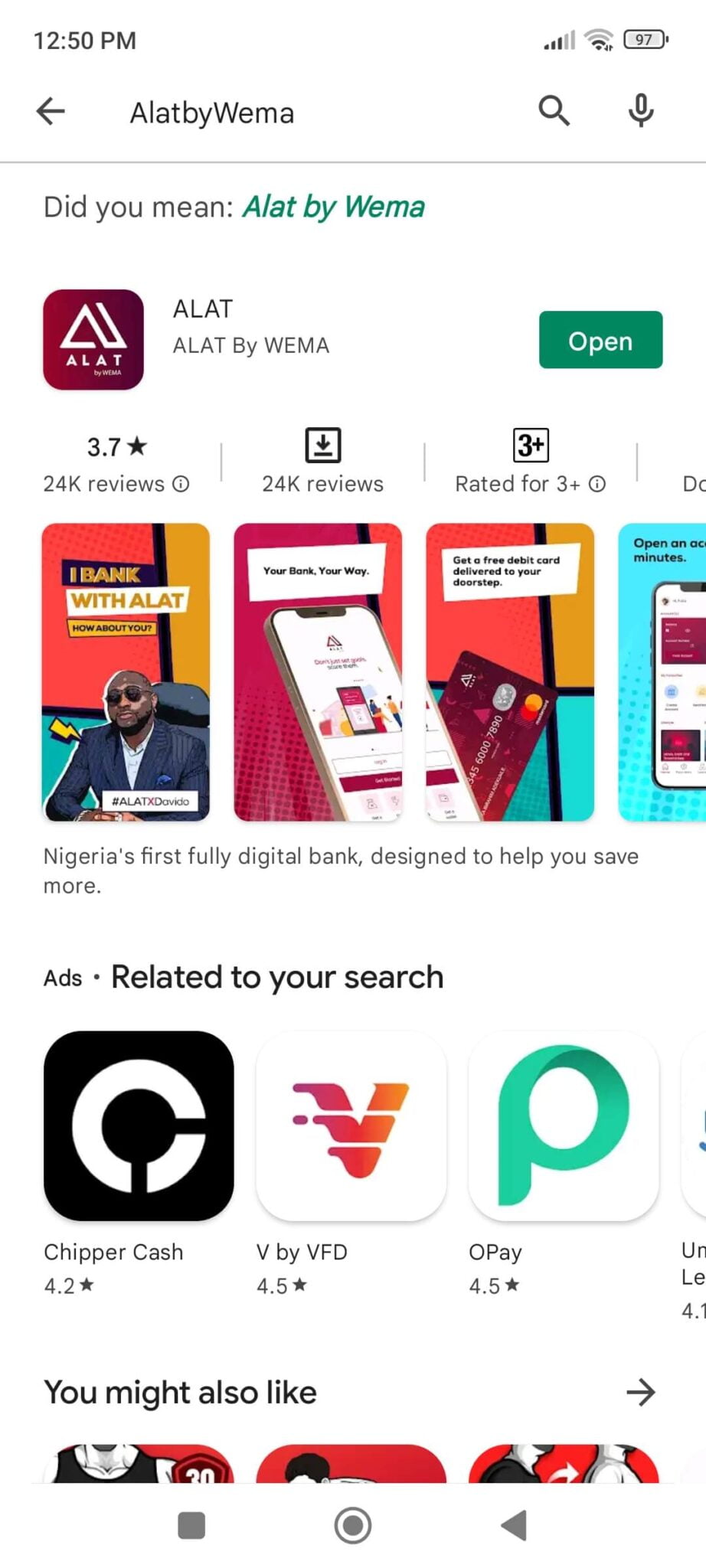 Visit the Google Play store and search for AlatByWema.
Click on the first app that appears. The right app is the one in the image above.
Install the app and then open it for the first time.
Step 2: Register for an Account
When you open the App for the first time, you will have to grant the app a few permissions to some necessary apps/information on your phone. Next, you will have to register for an account. To register for an account, follow the instructions below.
Click on Get Started
On the next page, you will be shown the requirements to open an account and what you will get with the app. Click on Proceed.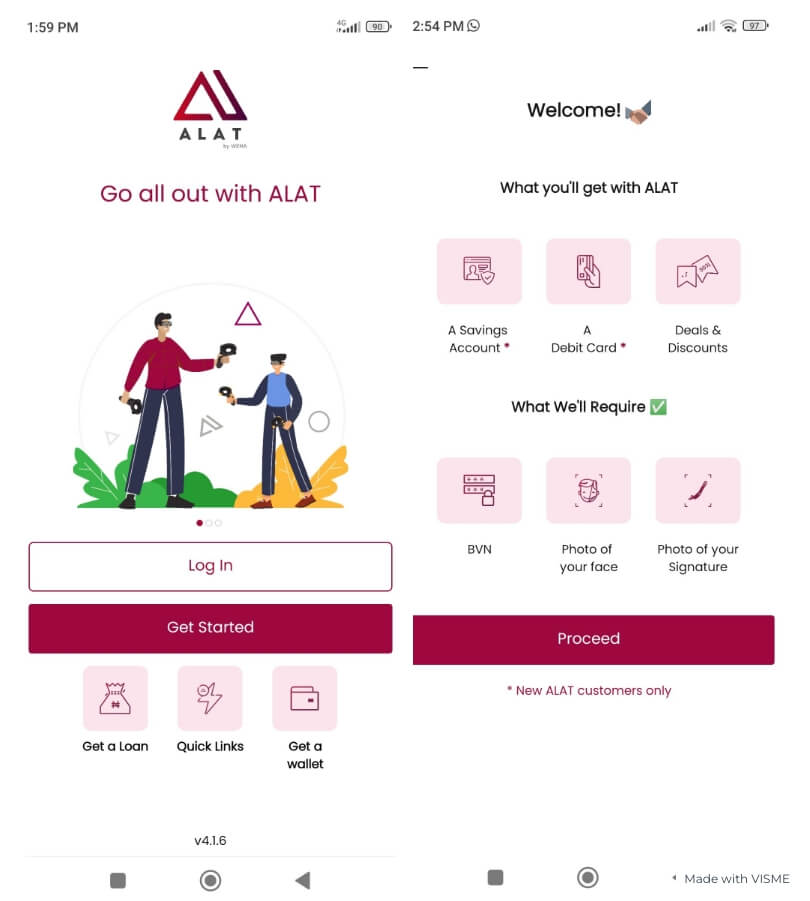 Select your country of residence and then enter your Phone number and Email Address. Click on Proceed.
On the next page, Enter your Bank verification number (BVN). Take a clear picture of your face and also take a clear picture of your signature. Make sure you sign on a blank page with no paper lining in order not to interfere with your signature. When you are done, click on verify identity.
On the third page, you have to Enter your address information and also upload a snapped copy of the front and back of your identity card. When you are done, click on Complete.
When you are done, you will automatically be given a Wema Naira account and you can request a card. You will also have to wait for about a week for your information to be reviewed and accepted.
Also, you should make sure that all your information has been submitted and you should see 100% completed in your dashboard.
Step 3: Create a Dom Account
The DOM account feature will only be available after you have submitted all the necessary details and your information has been reviewed and passed.
To open your DOM account,
Login to your account
On your dashboard click on Create account
Next, click on Domiciliary Account and then proceed as shown below.
Select your preferred currency. You can choose a USD, EUR, or GBP account. Then click on Create an account.
Once you create the account, you will be provided with a domiciliary account within a minute. That's just all you have to do to get a Domiciliary account in Nigeria without visiting the bank.
Read Also: Grey.co, Payoneer Alternative
Final Thought
The Wema DOM account you just created should be more than enough for someone who makes not more than $5,000 a month. If there is any reason you want more functionality, like getting interested and many other features, you can upgrade to the Wema Dom Plus. But don't forget you will have to provide two references. You can view your funds in transactions.
You will have to visit the bank to withdraw any funds from your account and also Exchange it on the black market. You can't make a transfer on this account and you won't be alerted when you receive funds in the account. You will have to visit the app to see your funds.
If you have any questions pertaining to the Wema DOM account, feel free to ask me in the comments below and I will do well to respond to every comment.