Given that the number of loan providers has shot up over the years, this has made it a bit difficult to identify legitimate loan providers that do not condone any aggressive debt collection practices.
Have you ever heard of loan platforms that connect lenders to borrowers? This form of loan platform will check your credit history, and connect you to a lender that is willing to borrow based on your eligibility and their terms. Some of the lenders on these kinds of platforms will offer you loans even when you have a bad credit record.
Modo Loan operates as a peer-to-peer lending platform that connects borrowers in need of personal loans with individual investors and institutional lenders willing to provide funding. But is Modo Loan legit? What are the Modo loan requirements? How does Modo operate? How much can you borrow?
I registered on Modo Loan and requested a loan to test it out. And after poking around, there are a few things you should know before applying for a loan. Hopefully, my Modo Loan review helps you decide if it's the right platform for you.
What is Modo Loan?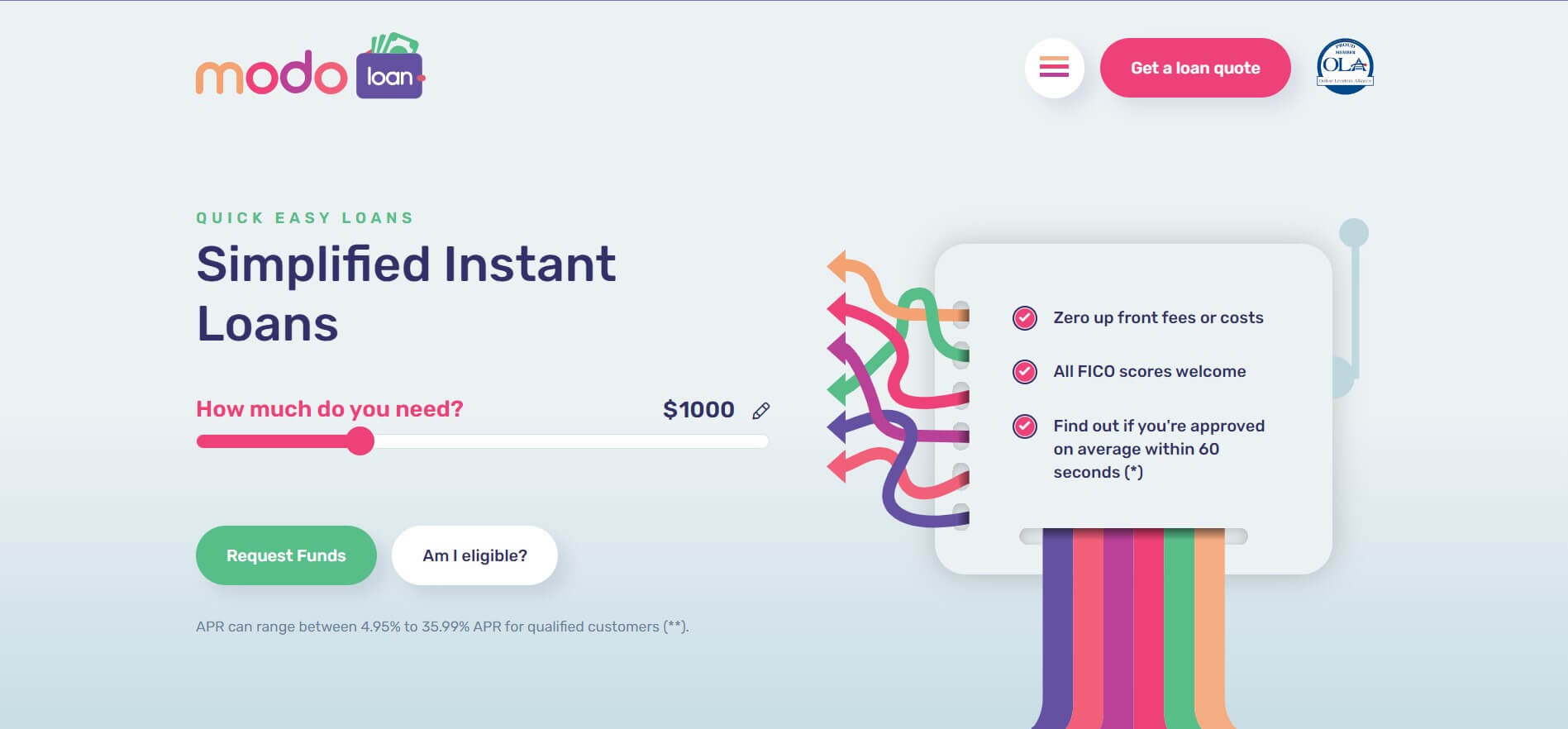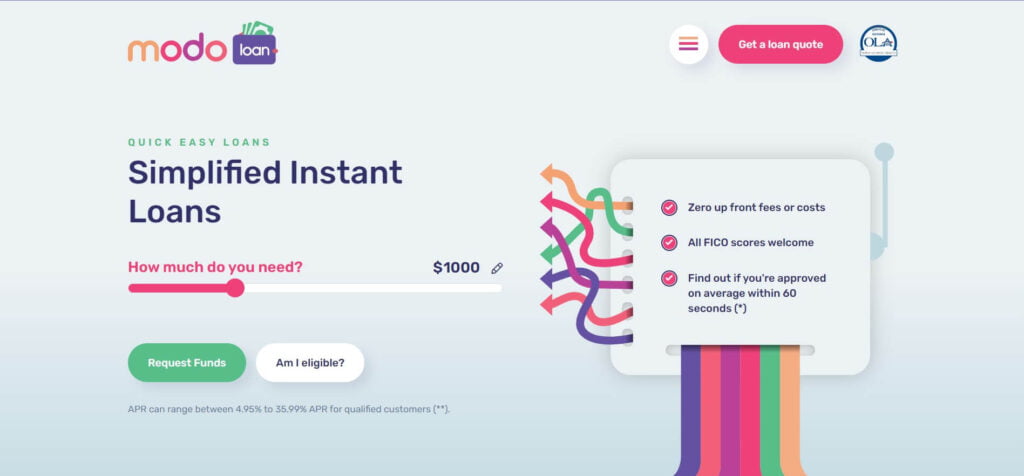 Modo Loan is an online peer-to-peer lending platform that connects individuals and small businesses seeking loans with investors willing to provide funds. Borrowers can apply for personal loans, debt consolidation, or business loans, while investors can diversify their portfolios by funding these loans. Modo loan assesses borrowers' creditworthiness, assigns interest rates, and lists approved loans on its platform.
You can also apply as an investor, willing to borrow people's loans, on the Modo loan platform. Investors can browse loan listings, select loans to fund, and earn returns from borrower repayments. The platform offers competitive interest rates and streamlined loan application processes, making it an alternative to traditional banking for both borrowers and investors. However, borrowers should meet certain credit criteria, and investors should assess the risk associated with their investment choices.
According to its website, the company has 100+ lenders, and over 500 active borrowers, and is available in the US.
You should note that Modo Loan is not the provider of these loans themselves. They earn their own commissions from the interest the loan providers on their platform get.
Is Modo Loan Legit?
Yes, Modo Loan is a legitimate platform, and they make attempts to match your application details with a lender willing to lend to you. If you want to look for lenders that will borrow you money even if you have a bad credit score, Modo loan is not a bad place at all.
However, Modo is not a loan provider themselves, instead, they only connect you with those willing to borrow the loans. As such, they do not have an involvement in the debt collection process. It is left to borrowers to read the loan agreement of the loan provider before applying for the loans.
Modo loans only act as a link between the lender and the borrower. As such, loan agreements and every other thing that has to do with loan borrow is between the lender and the borrower.
The Mobo Loan is a brand under Ping Yo Inc., a company incorporated in Florida, which means that the company is registered and regulated by law. The Online Lenders Alliance's (which sets best practices and standards for online lending businesses and monitors the Internet) logo can be found on the Modo Loan website.
Modo Loan Requirement
Although those with poor credit scores can also get loans through the Modo platforms, there are some important requirements before your loans can be approved. Here are the basic requirements to apply for loans:
You must be at least 18 years old.
You must have a regular income.
You must have a permanent address.
You must have a credit account.
Modo Loan mentioned on their website that they have many lenders that are willing to offer you loans even when you have a poor credit score. However, you should note that if your credit score is poor, your APR (loan interest rate) will likely be higher and as such, one late loan repayment can do bad damage to your credit score. You should only accept loan offers that you are comfortable with.
How Does Modo Loan Work?
I applied for a Modo loan with the primary purpose of reviewing the platform. I was connected to a loan provider willing to offer me up to $9,000. I was given a $7,000 loan offer, and the loan was disbursed to my account in less than a day, from the time of visiting the Modo loan website to receiving the loan.
All-in-all, the platform is very simple, and it's really just an online portal that helps you find lenders that are willing to offer you a loan based on certain criteria.
Here is a step-by-step process on how the website operates and how to get a loan from the platform'
1. Get A Loan Quote
The first step to applying for the Modo loan is visiting the Modo loan website and clicking the 'Get a Loan Quote' button on the top of the page. This will take you to a page where you will start the loan application process.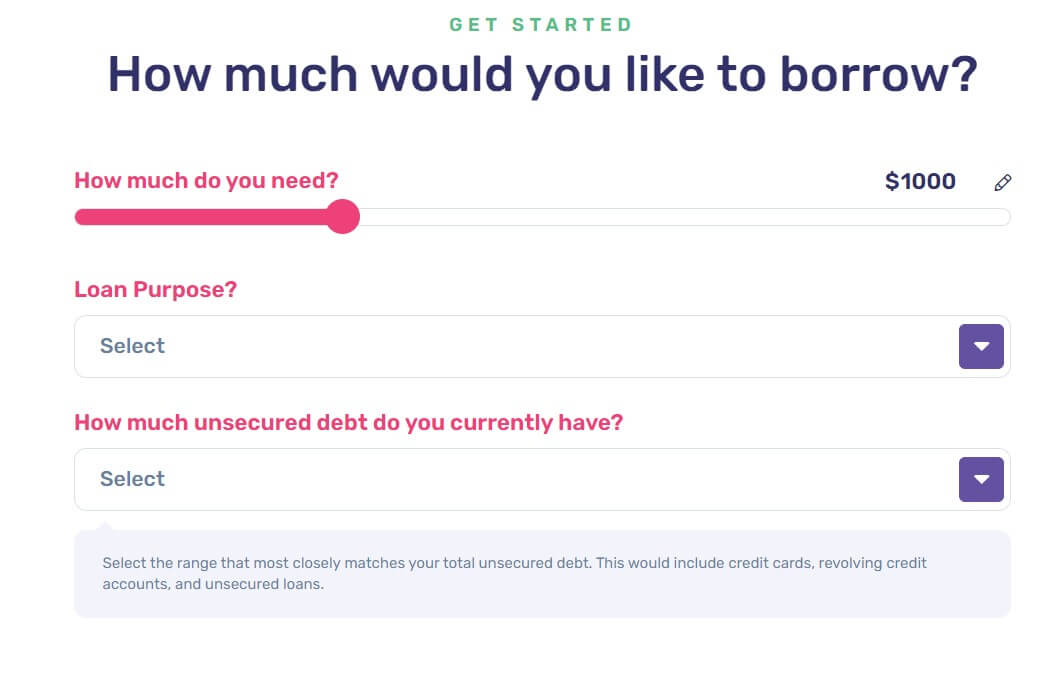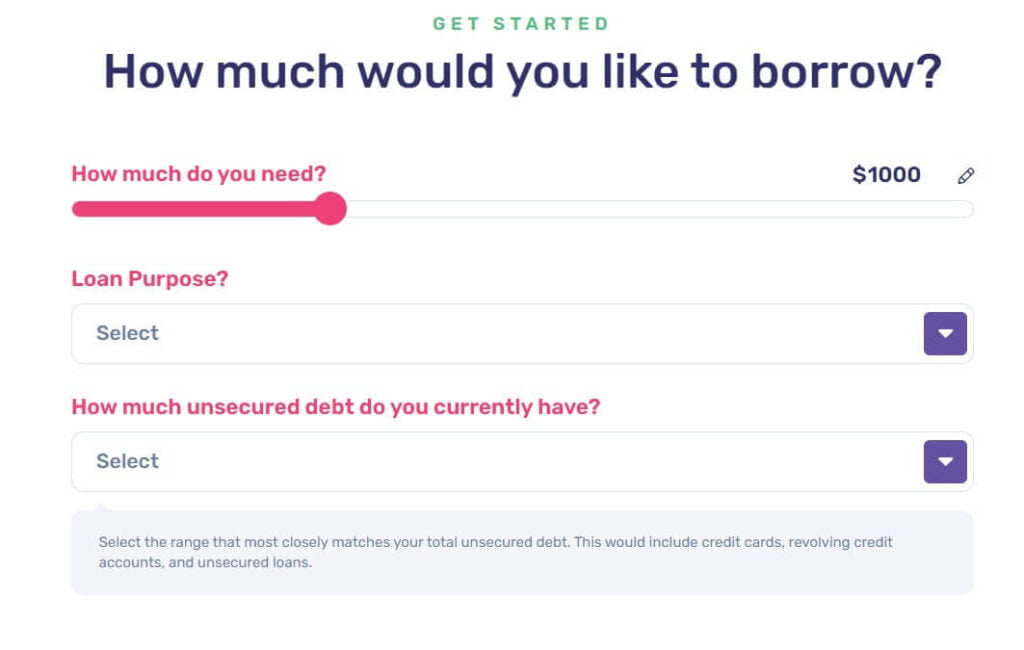 On this page, you will indicate the among of loans you want to request, the loan purpose, and how much unsecured debt you currently have. Then, you click on 'next' to go to the next page. On the next page, you will have to enter your zip code. and fill out the application form. Some of the information required are;
You Full Name
Date of Birth
Work Phone number
Cell phone number
Email
Social security number
Driver's license number
License Issuing date
Next, you will have to answer some questions regarding your current Income.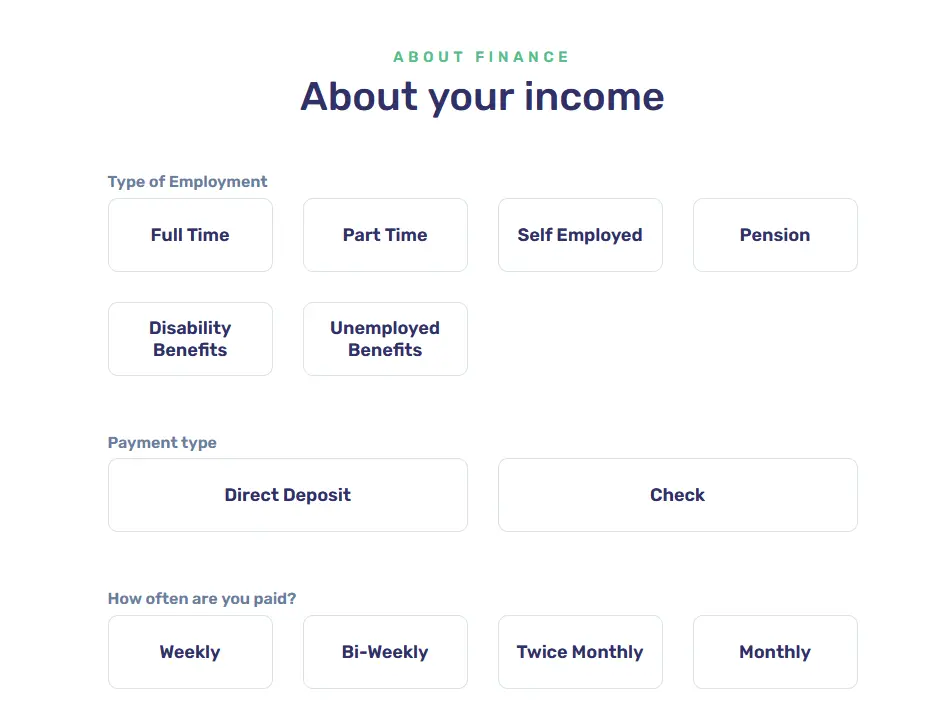 Lastly, you will fill in your address information and enter the details of your checking account.
2. Connect to a Loan Provider
Once you have completed all of your loan applications, you will be connected to a loan provider. In my case, I was connected to a loan provider called Transform Credit.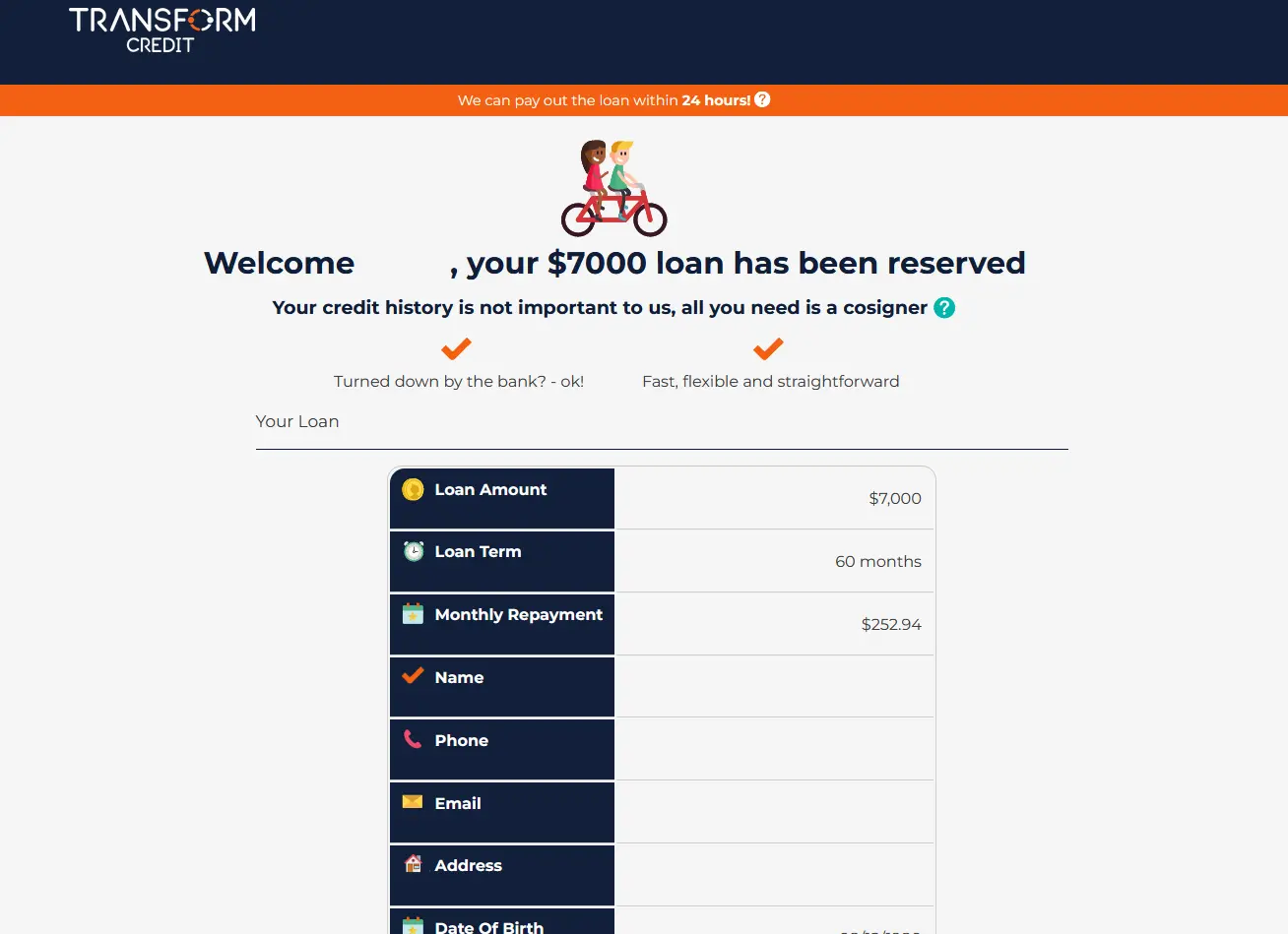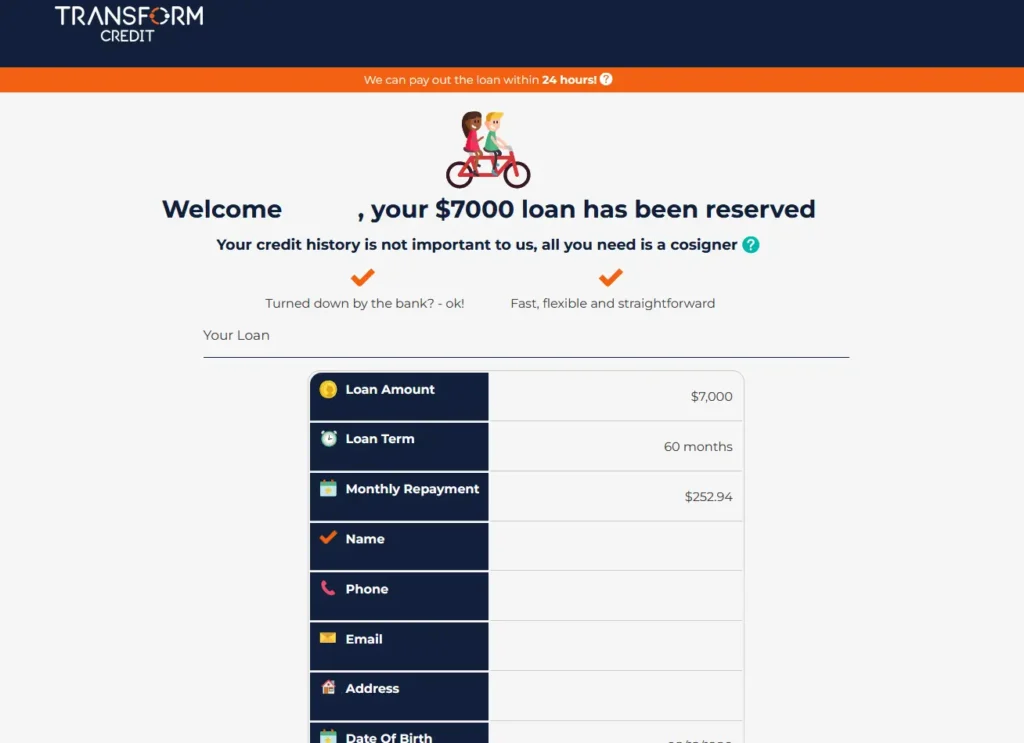 The lender was willing to offer me a $7,000 loan, with a loan term of 60 months. Remember the amount I requested was $9,000, but given a loan of $7,000. The APR is way too much in my opinion, it came with an APR of 35.99%. The monthly payment is $252.94 spread through a 60 months period i.e. 5 years. At the end of the loan term, I would have paid a total amount of $15,176.4 which is more than twice the amount I initially borrowed.
3. Accept Loan
If you are fine with the amount of the loan and the APR you are getting from the loan provider, you can go ahead to accept the loan and the amount will be deposited to your bank account.
You should however practice paying up your loans at the appointed time in order to have a good credit score.
How much does Modo Loan cost and what Interest Rate?
Modo Loan is a free-to-use platform. They do not charge you extra charges on your loan, instead, their business model is commission-based. This means they only earn their income by referring you to a loan provider and if you apply for the loan through their platform, the loan provider gives them a commission.
You should understand that this does not imply that the platform is interest-free. You will pay interest that ranges from 4.95% to 35.99% APR and even the loan is only available to a few people who are eligible.
When you sign a loan contract with any of the loan providers, you are obligated to take responsibility and repay your loans and interest when due to the provider, and the Modo loan is not in any way attached to both the lender and the borrower.
Every lender has their own terms and Modo loan does not have a say in their terms of use and service. You therefore need to understand the terms and service of the loan provider before accepting any loan from them.
Are there any other hidden costs?
On the Modo website, they made it clear that there are Zero upfront fees or costs. What they offer is a free service, and when it comes to anything that has to do with free service, you are the product. This means that for the free service, your personal information is needed.
On the website, you input your personal data, which will help them find loan providers that meet your needs and requirements, and they will have to share these data with their lenders. If you reside in areas like California, you are authorized by law to request Modo Loan not to sell your personal information.
With your personal information, lenders will perform a credit check to determine your creditworthiness which will enable them to decide the amount of loan they can confidently offer you. Your credit score will be affected whenever you miss a payment or make a late payment.
Overall, on the Modo Loan platform, there are no hidden fees.
Modo Loan Amount Limit
The loan you can receive from the Modo loan platform depends on certain criteria like your location and credit score. But on the Modo Loan, the amount ranges from $200 – $3,000. Those with very good credit scores and with no current debt will get higher loan limits above $3,000.
Is Modo Loan a Scam?
Modo loan is not a scam, and the loan portal connects you to various merchants who are willing to offer you loans even when you have a poor credit score. They do not provide you with the loan, but instead contact you to trusted lenders that will give you loans for any purpose.
Pros and Cons
Pros:
Diverse Loan Purposes: Borrowers can use Mobo Loans for various purposes, providing flexibility.
Transparent Fees: Mobo Loan fee structure is transparent, with no hidden fees.
Access to Investors: Mobo Loan connects borrowers with individual and institutional investors, increasing the chances of loan approval.
Soft Credit Inquiry: The initial loan application involves a soft credit inquiry, which does not impact your credit score.
Cons:
Eligibility Criteria: Mobo has specific eligibility criteria, and not all applicants may qualify for a loan.
Loan Grade Impact: Your loan grade can significantly affect the interest rate you receive, and those with lower credit scores may face higher rates.
Other Modo Loan Reviews
When applying for a Modo Loan, I decided to check for other users' reviews on some of the popular Review platforms like Trustpilot, CreditKarma, and the rest, but I was unable to find a single review on these platforms. It seems Modo Loan is still very new, and the website was created in 2020, which could also indicate that their operations started in 2020. However, on their website, it shows that they are a brand under PingYo Inc. which has been around since 2014.
There are no online reviews by other users of Modo loans. My experience with the platform was smooth, but that does not guarantee that it will be the same for everybody.
Modo Loan Alternatives
There are various other online platforms that connect borrowers to lenders, offering a range of loan products to suit different financial needs. These platforms typically provide a marketplace for borrowers to access loans from individual or institutional lenders. Here are some well-known loan platforms in the US:
LendingClub: LendingClub is a peer-to-peer lending platform that connects borrowers with investors. Borrowers can apply for personal loans, business loans, and auto refinancing loans.
Prosper: Prosper is another peer-to-peer lending platform that facilitates personal loans. Borrowers can apply for fixed-rate, unsecured loans for various purposes.
Upstart: Upstart is known for using artificial intelligence and machine learning to assess borrowers. They offer personal loans and focus on providing fair rates to borrowers with diverse credit profiles.
SoFi: SoFi, short for Social Finance, offers a range of financial products, including student loan refinancing, personal loans, mortgages, and investment options.
Avant: Avant specializes in providing personal loans to individuals with average to poor credit. They offer quick access to funds and flexible repayment terms.
OnDeck: OnDeck caters primarily to small businesses, offering short-term loans, lines of credit, and business financing solutions.
Funding Circle: Funding Circle is a peer-to-peer lending platform that focuses on small business loans. It connects business borrowers with investors seeking to fund small and medium-sized enterprises (SMEs).
Kiva: Kiva is a unique platform that allows individuals to lend money to entrepreneurs and small business owners around the world, including within the United States. It emphasizes social impact and offers 0% interest loans.
Credible: Credible is a loan comparison platform that helps borrowers find the best rates and terms by comparing multiple lenders. They cover various loan types, including personal loans, student loans, and mortgages.
Fundera: Fundera is a marketplace that connects small business owners with lenders. It helps businesses secure financing through loans, lines of credit, and other financial products.
Lendio: Lendio is another platform that specializes in connecting small businesses with a network of lenders. They offer various loan options tailored to business needs.
Peerform: Peerform is a peer-to-peer lending platform that offers personal loans. It considers a wide range of credit profiles and aims to provide affordable loan options.
Final Thought
I've borrowed loans through the Modo Loan platform and I can say that the platform is very okay and they offer very good service. They will connect you to a lender that will provide the loan within 60 minutes and there are no hidden fees.
One of the problems with the platform is that most of the loans come with very high-interest rates, especially for those with poor credit scores. If you have ever used the Modo Loan portal before, you can leave a review in the comment section below.