We all can say that the era of the use of pen and paper to send letters as a form of communication is over, but the importance of postal codes and zip codes remains supreme. These alphanumeric codes serve as keys to unlocking the seamless movement of mail, packages, and communication across the nation. In this blog post, we present a comprehensive list of Kenya's postal codes, shedding light on the diverse areas they represent and the importance they hold in streamlining logistics and enhancing communication.
Understanding the Significance of Postal Codes
Postal codes, also known as ZIP codes in some countries, are numerical or alphanumeric codes assigned to specific geographic regions. These codes are the backbone of efficient mail delivery and logistics. In Kenya, postal codes hold a special place in the nation's infrastructure, ensuring that letters, parcels, and communication reach their intended destinations with accuracy and speed.
Exploring Kenya's Postal Code Structure
Kenya's postal codes consist of six characters, combining both numbers and letters. Each postal code is designed to provide information about the geographic location it represents, from larger regions to smaller localities. Let's break down the structure of a Kenya postal code: "XXX00."
XXX: The first three characters represent the code for a specific town or region.
00: The last two digits indicate a particular postal area within the designated town or region.
List of Kenya Postal Codes
Here is a selection of postal codes for major towns and regions across Kenya: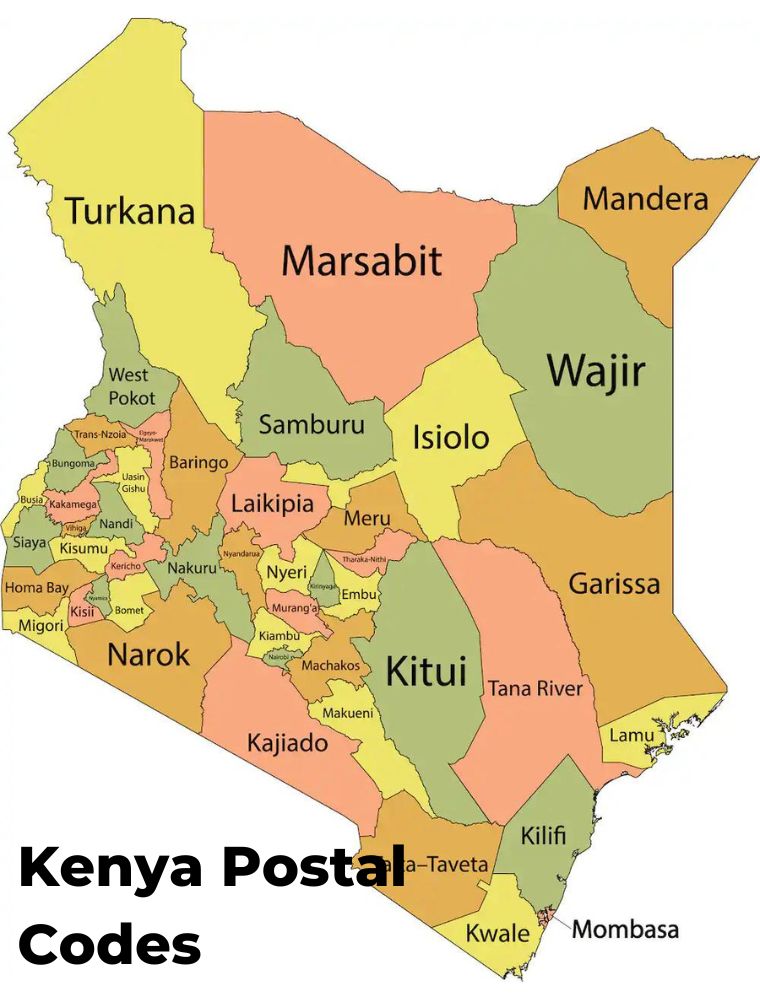 Nairobi
Nairobi Central: 00100
Westlands: 00800
Upper Hill: 00100
Kilimani: 00505
Parklands: 00623
Lang'ata: 00509
Mombasa
Mombasa Island: 80100
Nyali: 80118
Kizingo: 80114
Tudor: 80105
Kisumu
Kisumu Central: 40100
Mamboleo: 40139
Nyalenda: 40142
Nakuru
Nakuru Central: 20100
Milimani: 20117
Eldoret
Eldoret Central: 30100
Elgon View: 30103
Kisii
Kisii Central: 40200
Nyamataro: 40201
Thika
Thika Central: 01000
Makongeni: 01001
Kitale
Kitale Central: 30200
Milimani: 30204
Nyeri:
Nyeri Central: 10100
Kamakwa: 10101
Embu
Embu Central: 60100
Majimbo: 60103
Meru:
Meru Central: 60200
Makutano: 60202
Kakamega:
Kakamega Central: 50100
Malava: 50103
Kisumu:
Kisumu Central: 40100
Mamboleo: 40139
Naivasha:
Naivasha Town: 20117
Mai Mahiu: 20147
Lamu:
Lamu Town: 80500
Mokowe: 80501
Finding and Using Kenya's Postal Codes
To locate the postal code for a specific location in Kenya, you can turn to online resources like the Kenya Post website or the National Addressing System (NAS). Simply enter the name of the area, and you'll receive the corresponding postal code. These tools are invaluable for ensuring accurate addressing, smooth mail delivery, and efficient e-commerce transactions.
Conclusion
Kenya's postal codes are far more than just combinations of characters; they are the threads that weave the fabric of a connected nation. They enable seamless mail delivery, streamline e-commerce, and even play a role in emergency response systems. By familiarizing ourselves with Kenya's diverse postal codes, we gain a deeper understanding of the nation's geography, economy, and the mechanisms that keep everything interconnected.