If you own a blog, website, or YouTube channel, one of the ways to make money from it is through Google AdSense. At least 70% of bloggers make money from Google AdSense, and almost all new bloggers make their income from Google AdSense. Because of some restrictions and the non-availability of government-approved documents in Nigeria, Creating and verifying a Google AdSense account has become a little difficult for most people.
In this blog post, I will explain some of the things you will need, some of the things you need to avoid, and problems you will likely face with your Google AdSense account and how to solve them. Let's get into it.
Requirement
You should know that creating a Google AdSense account is free. Although you won't be paying any amount at all, you will need to verify your account using some of your documents. Here are the basic things you will need to have your account set up.
Gmail account (only Gmail, other emails like Yahoo mail, Outlook, Zoho mail, and ProtonMail are not allowed).
You will need one of these: a National ID card, voter's card, international passport, or driver's license.
And you will also need to verify your address. Google will send the code to verify your address using the postal office.
Later in this article, we will go through some of the problems you will encounter when verifying your account.
How to Create a Google AdSense Account
Creating a Google AdSense account is free and very easy. Here is an illustration of how to effortlessly create your Google AdSense account: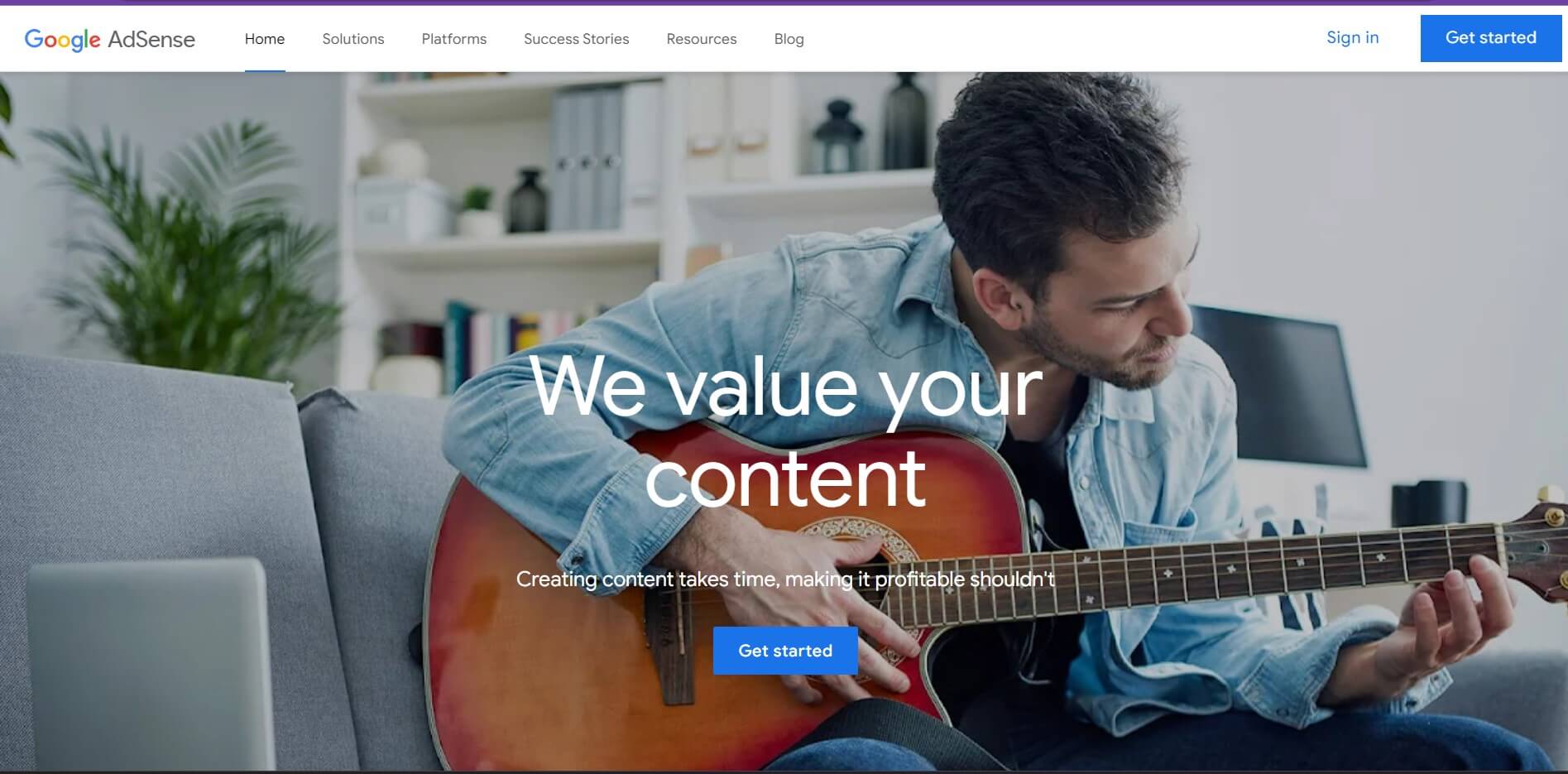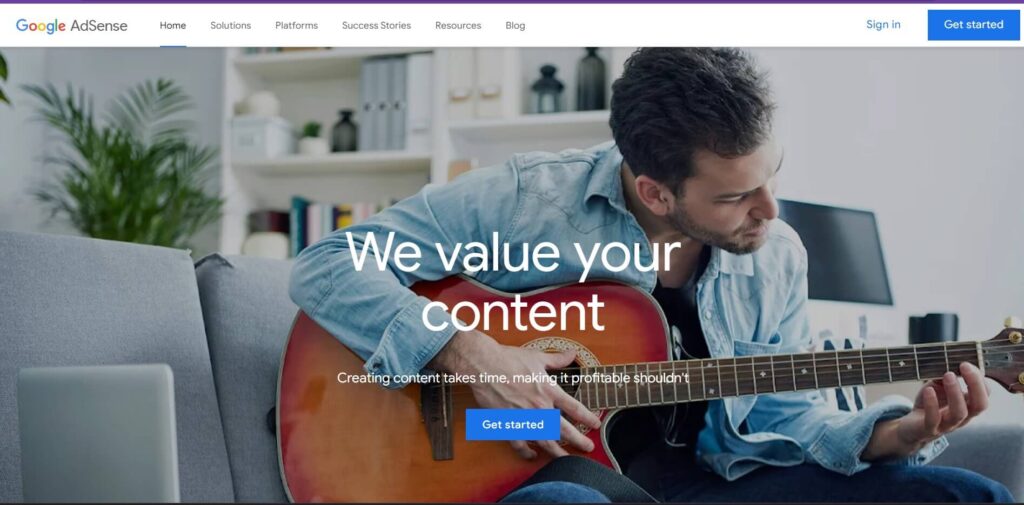 Go to the Google AdSense Account sign-up Page.
Click on Get-Started.
You should make sure that your browser is signed into your Gmail account.
You will be prompted to pick the email you plan on registering with.
Next, enter your website URL (or YouTube Channel URL) and your country.
You will be provided with a code to add to your website header for those who are applying for the website. For the YouTube channel, you will have to link your channel to the AdSense account.
And now, you have an AdSense account.
After completing registration, you will receive a message from Google AdSense if your website is ready to show ads or not, and this normally takes up to a week. If not, you can reapply to Google AdSense as many times as possible. You can also follow some simple tricks to get your Google Adsense approved fast. For those who applied using the YouTube Channel, your account will be available instantly. But you can only view your earnings from the YouTube studio.
Problems You Will Face With Your Account
In this section, we will quickly highlight some of the problems you will face with your AdSense account and how to solve them. These are problems and limitations that I have personally faced, so, I will just describe how I was able to get them solved.


Problem #1: AdSense Country
Now, one thing many people do when registering for a Google AdSense account is that they choose top-tier countries like the UK, the US, Canada, and the like instead of picking their own country, for example, Nigeria. The reason why many people do this is because, they believe that any top-tier country AdSense account, like the UK Google AdSense account, will earn you more money than the Nigeria Google AdSense Account.
But this is not entirely true. Having a US or UK Google AdSense account will earn you the same amount as having a Nigeria account, but in some scenarios which is only known to Google themselves.
The way it actually works is that Ads viewed from top-tier countries like the US earn you more than Ads viewed from developing nations like Nigeria, India, and the like. Let's say I have a tech niche website, if my audience is from Nigeria, I will be earning around 1-2 dollars per 1000 views, while the same content can earn me anywhere between 10-15 dollars per 1000 views if my audience were from the US. So, even if you have a US AdSense account, if your traffic is from Nigeria, you will still be earning a small amount.
So, to be on the safer side, you should create a Nigerian AdSense account. Because Google will send an address verification code to the address you registered. And if you are creating for other countries, if you don't have someone who can pick up the code for you, you won't be able to verify your address and you will likely not have an ID card to verify your identity as a citizen of such countries.
Whereas having a UK, or US AdSense account will earn you the same amount as having your Nigerian AdSense account.
Problem #2: Identity Verification
Once your website has been accepted by AdSense, you will start seeing ads on your website if everything is right. When your website makes up to $10, you will be asked to verify your identity. For YouTubers, when their first-month earning get into their AdSense account, they will be asked to do some verification.
One of the problems as a Nigerian is that you might not have any government-approved identity card. If you have a driver's license, original National ID card, Voter's card, or international Passport, you are good to go. But if you have none, there is a way to go about it. You should know that AdSense does not accept the NIN slip or that card downloaded from the NIMC app. It should be the original National ID Card, which only a few people have.
Now, if you don't have any of these ID cards, you can use someone's else own. For example, at the time I created my own AdSense account, I didn't have an ID card, so, I used my Dad's Driving license. You just have to update your dad's name on the dashboard, under payment (As Shown in the image below). Don't worry you will be able to receive your payment to your own bank account as long as the payee's name still remains your name. And that is the name you used in registering the account.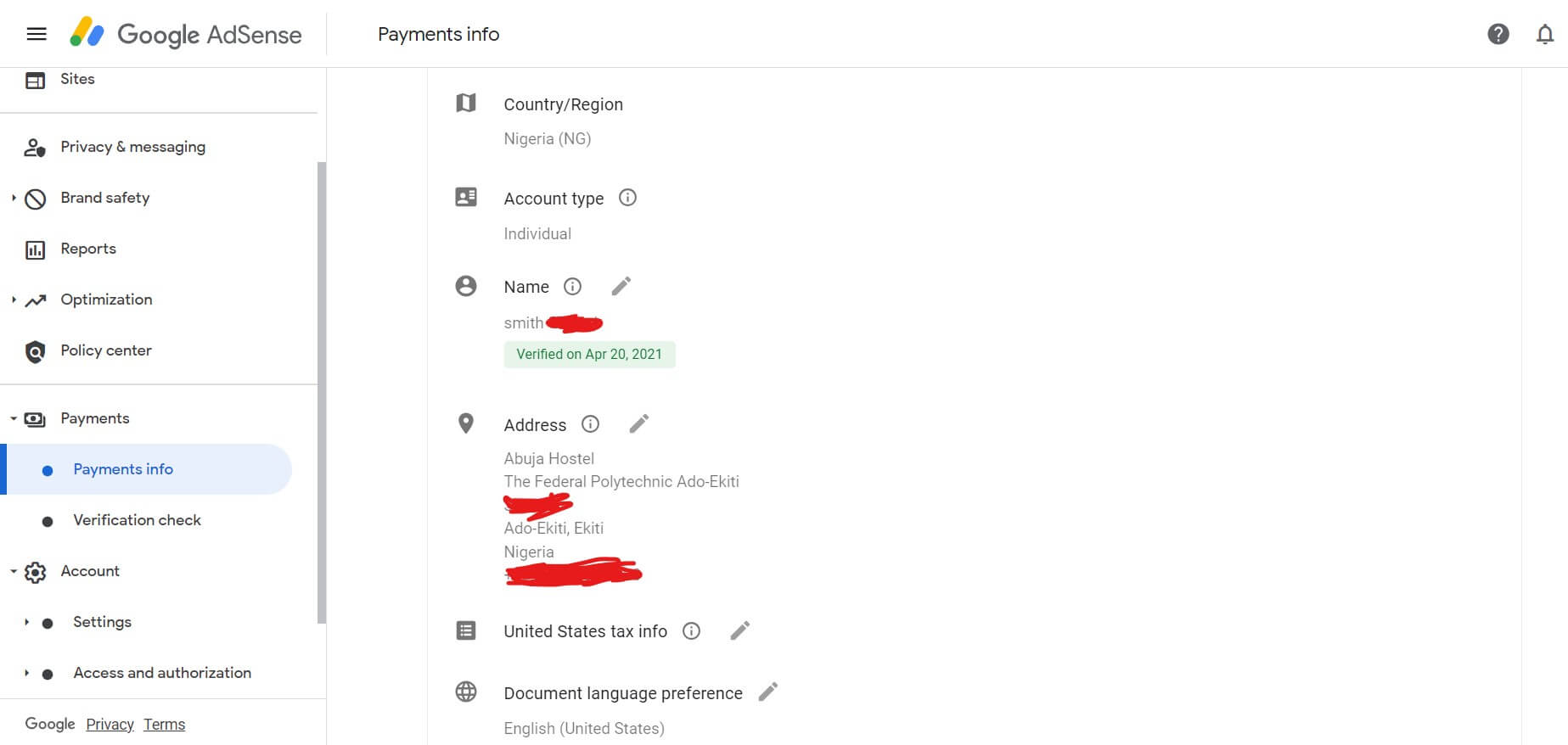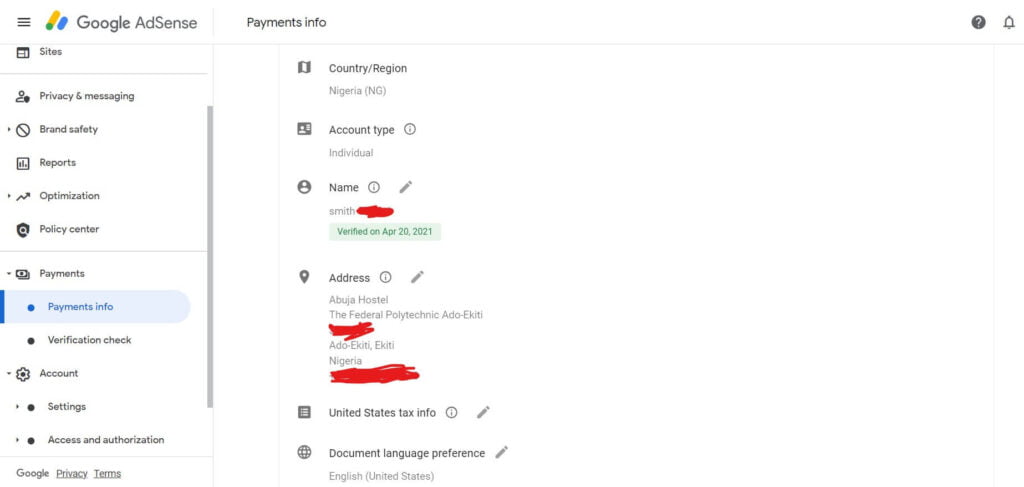 Problem #3: Address Verification
Once your ID has been verified, you will be sent an address verification code to your registered address. When you get the code, you can use it to verify. You can request that the code should be resent up to three times if the code does not arrive at your address. You can also check your nearest post office just to see if the code arrives at their location but they were unable to reach you.
About 70% of Nigerians will not get their code. If you are one of these people, make sure you request that the code be resent up to three times, which makes it four times the code was sent. After the fourth time, and you do not receive your code, you will have to visit this page, then follow the instructions, telling Google you did not receive your code. Google will then send you to the verification page, where you will use your identity card again to verify, but make sure the address on your ID card is what you enter in the address on the dashboard.
After submitting your card, you will wait for about 24 hours for the card to be verified, when done, your account will now be verified and you can now add your payment method.
AdSense Payment method
I recommend adding a DOM account as your payment method. I explained how to add your DOM account to Google AdSense in the Video below.
You can also learn how to create a DOM account from home, watch the video below as well.
If you use a domiciliary account, you can go to the bank and withdraw your earnings in cash, then exchange it in the black market. That way you will get a better rate, and not lose some money to banks.
Parting Words
When creating your Google AdSense account in Nigeria, you will need to verify your identity using an identity card and verify your address through a code sent to you via the postal office. If the code did not arrive at your address, there are ways to go about this, which I explained in this article. One thing you also need to keep in mind is never to create an AdSense account for another country when your country of residence is Nigeria, doing this will not make you more money on the AdSense ad network.
If you want to make more money from your website, I'd recommend you venture into content that drives affiliate sales, and you can also apply for a premium ad network like Ezoic.
I hope you learned one or two things about AdSense in this blog post, if there is any problem you are currently facing with your AdSense account, don't hesitate to tell me in the comment section below, and I will make sure I reply to all comments.