In this article, I will explain how to book an SGR Ticket Online via phone or your personal computer. The process is quite simple because it involves providing details like where you will take off from, your destination, personal details, seats, preferred class, and travel date.
Before going deep into the main topic, let's quickly understand some key information about SGR.
What is SGR?
The Standard Gauge Railway in Kenya is a modern railway system that connects major cities in the country, primarily Nairobi and Mombasa. It was built to replace the old meter-gauge railway and improve transportation efficiency for passengers and freight between these two critical economic hubs.
Read Also: How to Register on Trade Monitoring System
Key Features of SGR
Key features of the SGR in Kenya include:
Nairobi-Mombasa Line: The primary line runs between Nairobi, the capital city of Kenya, and Mombasa, a major port city on the Indian Ocean coast. The railway covers a distance of approximately 480 kilometers (about 298 miles).
Passenger and Freight Services: The SGR offers both passenger and freight services. Passenger trains operate at high speeds, reducing travel time between Nairobi and Mombasa to around 4-5 hours.
Classes of Service: The passenger trains generally have two classes: First Class and Second Class. First Class provides more comfortable seating and additional amenities, while Second Class offers a more affordable option.
Modern Infrastructure: The SGR is built with modern infrastructure, including standard gauge tracks, modern stations, and well-equipped trains.
Efficiency and Reliability: The SGR is designed to be efficient and reliable, providing a safer and faster mode of transport between Nairobi and Mombasa.
SGR Train Types
The Standard Gauge Railway (SGR) in Kenya primarily operated two types of passenger trains on the Nairobi-Mombasa route:
Madaraka Express Passenger Service: This is an express passenger train service that operates between Nairobi and Mombasa. The Madaraka Express consists of two train categories, namely:

Inter-County: This train stops at intermediate stations along the route, offering passengers the convenience of boarding and alighting at multiple stations. It is ideal for travelers who need to access destinations between Nairobi and Mombasa.
Express: The express train is non-stop between Nairobi and Mombasa, making it faster and ideal for those who want a quicker journey between the two major cities.

SGR Night Train Service: In addition to the daytime Madaraka Express services, the SGR also offers a night train service between Nairobi and Mombasa. The night train provides an overnight travel option, allowing passengers to rest during the journey and reach their destination the next morning.
Both the Madaraka Express and the SGR Night Train are designed to provide comfortable and efficient travel options for passengers between Nairobi and Mombasa. As a modern railway system, the SGR features well-maintained infrastructure and offers two classes of service, namely First Class and Second Class, to accommodate various passenger preferences and budgets.
Read Also: How to Check and Pay NHIF penalties online
How To Book an SGR Ticket Online
Regarding online booking for SGR in Kenya, the process is the same, when you use your phone or computer.
Step One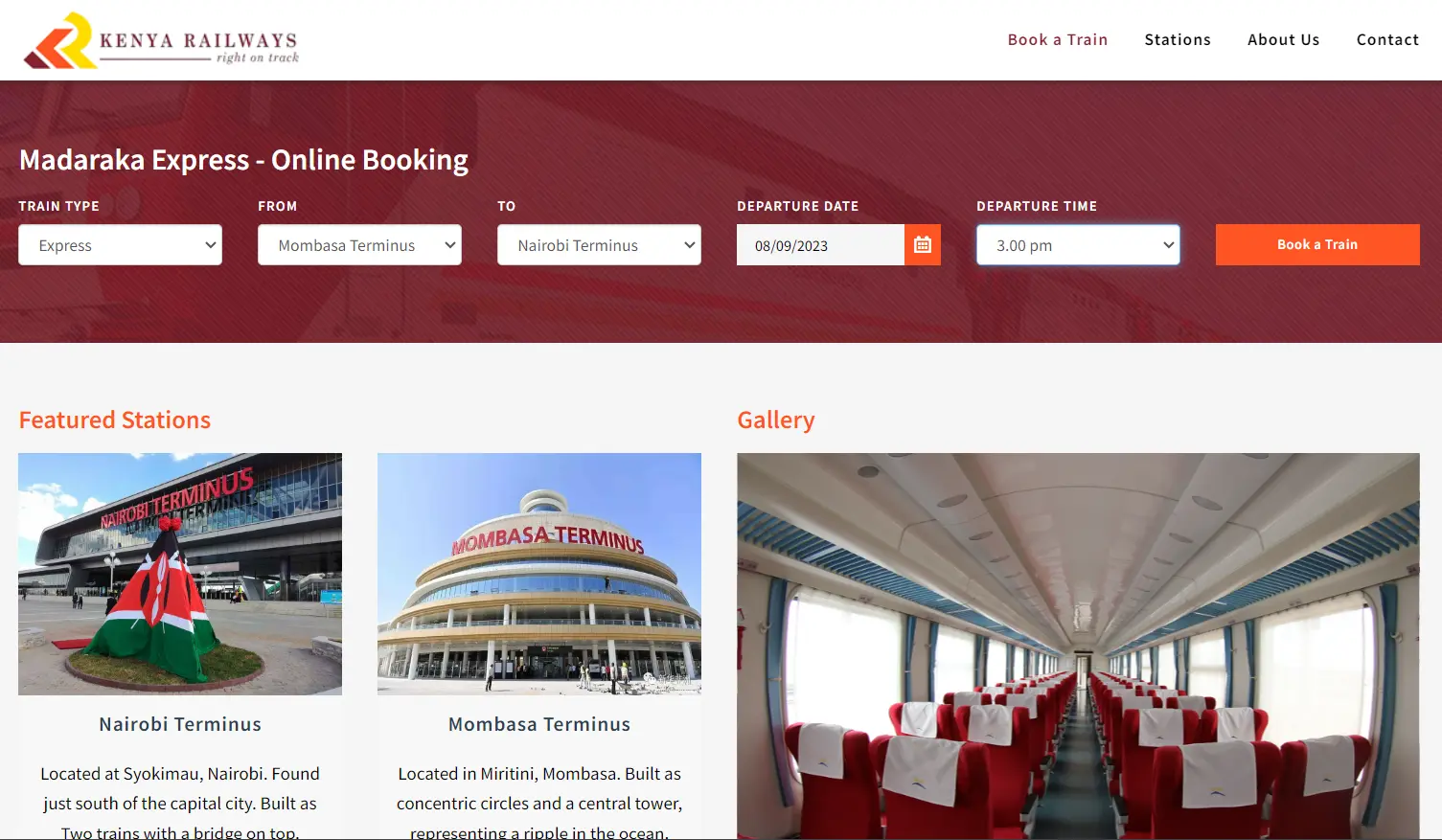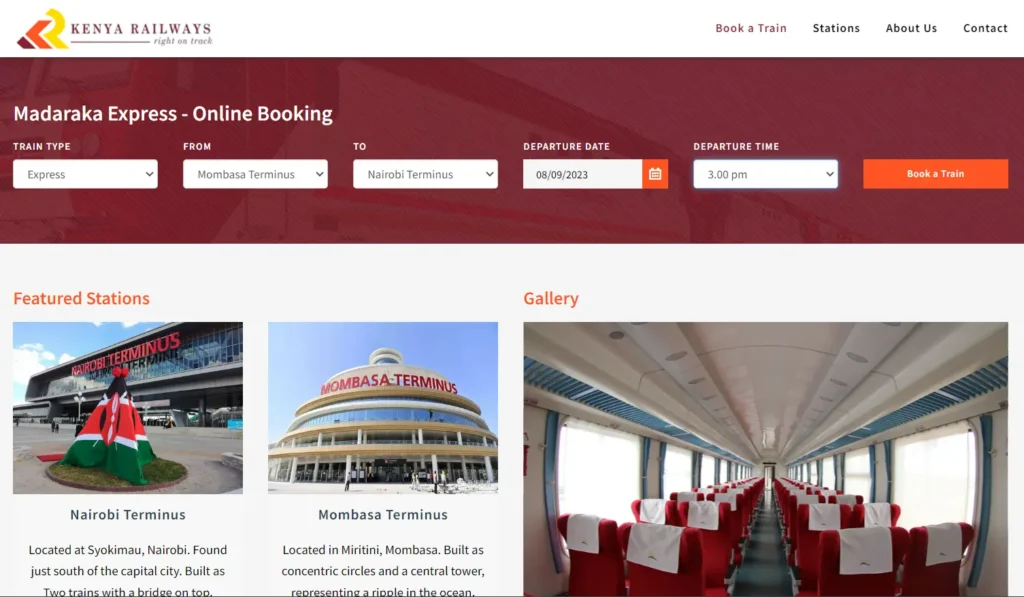 Visit the Madaraka Express Website
You will find the Madara Express – Online Booking at the top of the website's page.
Choose the Train Type you prefer; Inter-Country, Express, or Suswa Train
Next, choose where you are going to board the train; Nairobi Terminus, Mombasa Terminus, or Voi.
Enter your Departure Date.
Enter your Departure Time and then Click Book a Train.
Step Two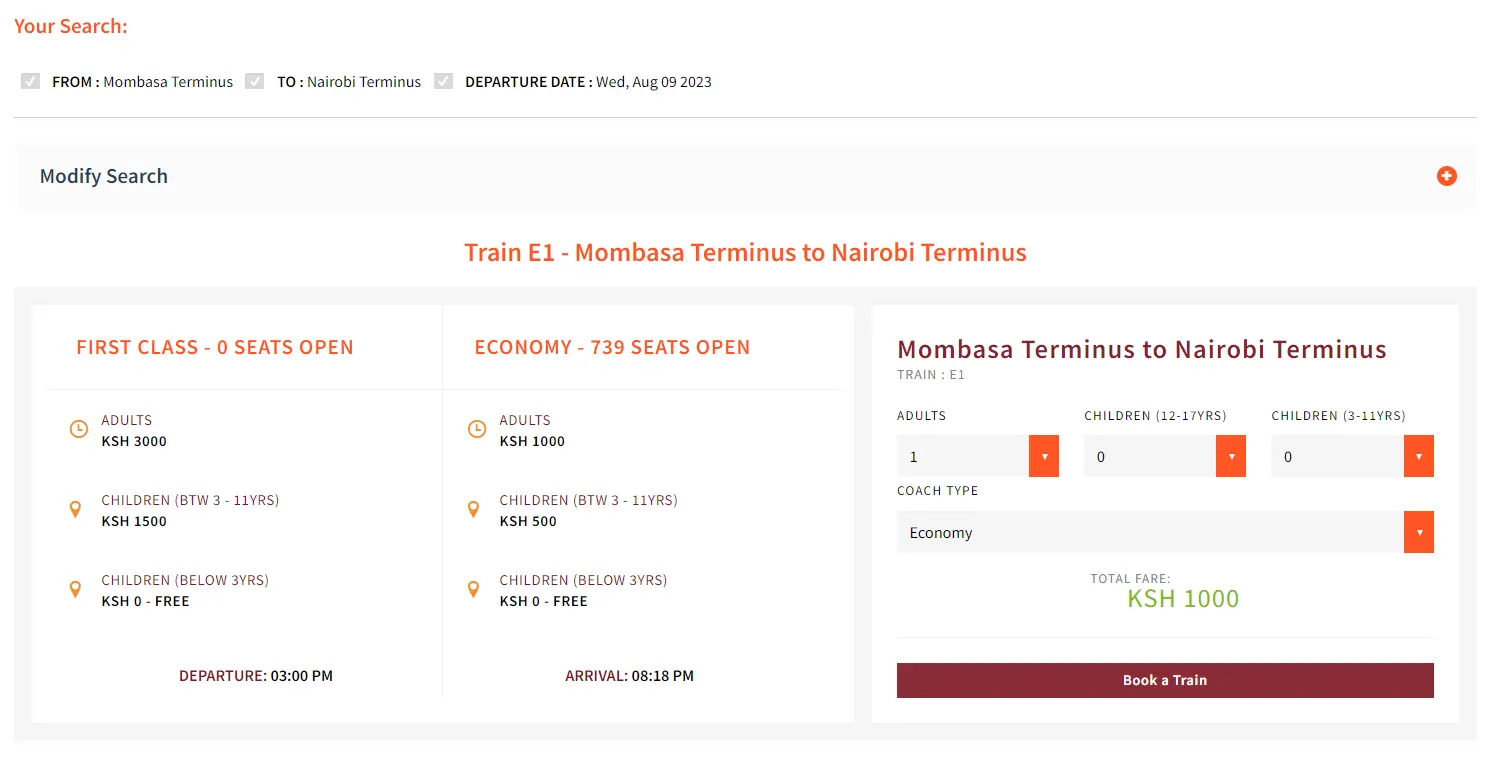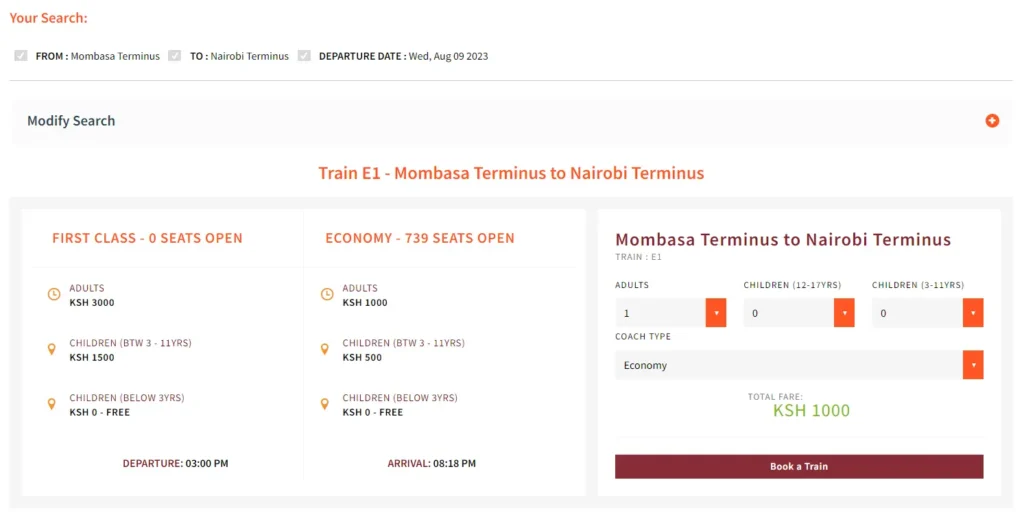 On the next page, Choose the number of Adults and Children that you want to pay for.
Next, select the class you want to purchase, First-Class or Economy.
Then, click Book A Train.
You will be redirected to the payment page.
Step Three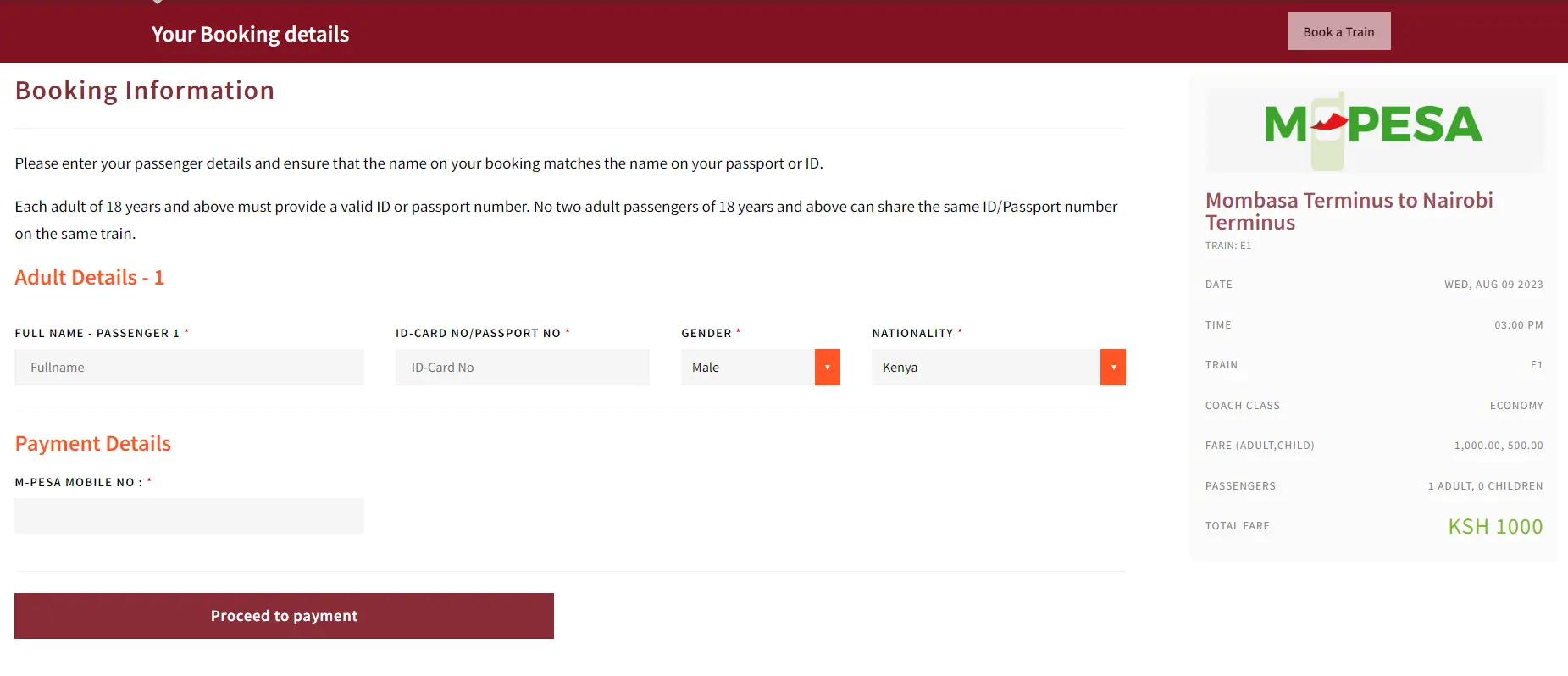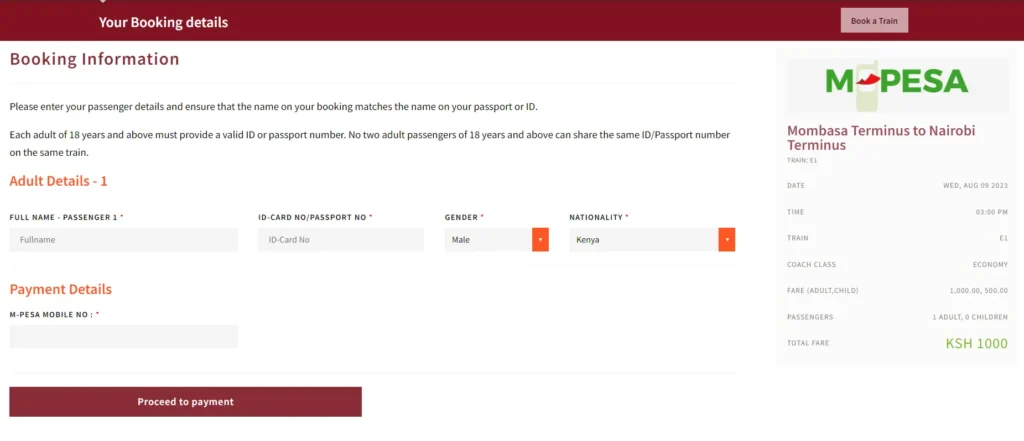 Enter your Full name, ID Card number, Gender Nationality, and M-Pesa Phone number.
Click proceed to payment.
You will be taken to the M-Pesa Payment platform where you will have to enter your pin.
You will be sent an OTP to your phone, from M-Pesa to be sure it's you making this payment.
Enter the OTP.
You will receive a message from SGR and M-Pesa showing that your transaction is successful. You will also be sent your Ticket details to your email, and you can then print it and take it along to the Train station. You should know that you can also book a ticket at any Train Station if you prefer to book your Ticket offline.
Things To Know When Booking A Train
When you book a Train, there are a few things you need to note in order to have hassle-free transport and not to have issues with railway authorities/workers. You should make sure that you enter the correct travel details, carry a valid ID card with your details, don't seat in first class when you pay for the economy, arrive early to the train station, print your ticket, and Confirm the departure and arrival times of your train.
You will be told to buy another if you misplace your ticket . If it was lost on the train, the traveler must pay an additional ticket fee starting from the losing station. If a ticket is discovered to be missing upon arrival at the destination station, the passenger is deemed to be without a ticket.