M-KOPA Kenya is a well-known company that provides pay-as-you-go solar energy solutions, televisions, fridges, and smartphones to individuals who don't have enough money to buy them outright. The company aimed to make financing for everyday essentials accessible to everyone.
The M-kopa company founded in 2011 by Jesse Moore and Nick Hughes is a Nairobi-based company and has a presence in other African countries like Nigeria, Uganda, and Ghana.
M-KOPA's business model typically involves providing customers with solar panels, a battery pack, LED lights, smartphones, televisions, fridges, and other essential household devices. Instead of purchasing the equipment outright, customers could make small daily, weekly, or monthly payments using mobile money services like M-Pesa. Once the full amount was made, customers would own the product outright and enjoy the full benefits.
The company's innovative approach enabled many families in rural and underserved areas to access clean and sustainable energy solutions and buy smartphones and other products, improving their daily lives.
We already showed all the phones available on M-kopa and their payment plans. In this article, we will show you how to pay Mkopa phone using another phone via Mpessa.
How to Pay M-kopa Phone Using Another Phone (Pay M-kopa Phone via Mpesa)
So, you already purchased your M-kopa phone, and now you want to make your monthly or weekly payments, but you don't plan on paying using the phone you purchased, probably because the phone has been locked. You can pay using another phone or the M-kopa phone as long as you have your Safaricom sim or Mpesa app installed on the other phone.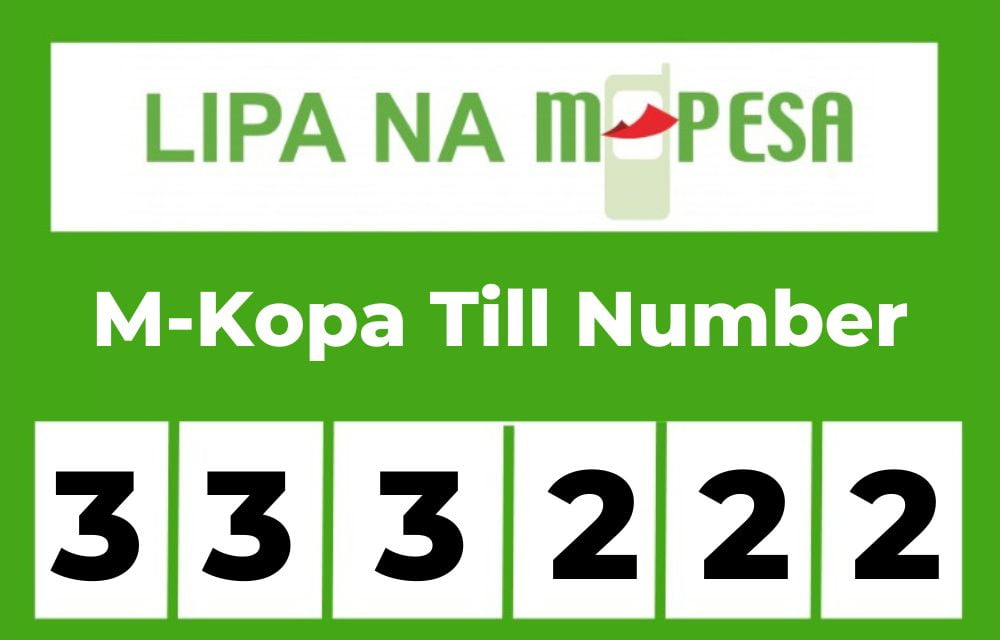 You can pay for your Mkopa phone in Kenya using the M-kopa pay bill number, 333222. Here is a guideline on how to pay;
Ensure you have sufficient funds in your M-Pesa account.
Go to the M-Pesa menu on your mobile phone. This is usually accessed through the Safaricom SIM Toolkit or by dialing *234#. And you can also go to the M-Pesa menu via the Mpesa app.
Select "Lipa na M-Pesa" from the menu options.
Choose "Pay Bill" and enter the M-kopa Paybill number, which is 333222.
Enter your ID number as the account number. Your ID number is the number you used to register.
Enter the amount you want to pay for your product.
Enter your M-Pesa PIN to confirm the transaction.
Review the transaction details and ensure they are accurate.
Confirm the payment by pressing "OK" or "Send" on your mobile phone.
You will receive a confirmation SMS from M-Pesa and M-Kopa confirming the successful payment.
Your M-kopa loan balance will be updated, and if your phone has been locked before, it will be unlocked immediately.
What happens if you don't pay for your M-Kopa product?
When you refuse to pay your M-kopa phone loan repayment on time, the first thing you will experience is your phone getting locked. You won't be able to use the phone because it will be automatically locked by M-Kopa.
Not repaying your M-Kopa on time may incur extra charges, that is, you will be paying more money than you would normally pay. M-Kopa might also report you to the Credit Reference Bureau (CRB), which will affect your credit score and make you have issues borrowing loans from them or any company.
To avoid any form of embarrassment and M-Kopa locking you out of your mobile phone, make sure to repay your loan on time.
Conclusion
If your phone is locked, and you want to pay M-Kopa phone, you can do this with another number. You just have to insert your Safaricom SIM in the other phone and pay your M-Kopa loan via Mpesa. When you refuse to pay M-kopa phone loan on time, you will be locked out of your mobile phone and won't be able to use the phone until you have cleared the loan for that particular month or full payment.