Thanks to the eCitizen portal, Kenyans can now renew their lost, replaced, stolen, or expired driving licenses from the comfort of their home. The eCitizen portal is an online platform that enables Kenyan citizens and businesses to access government services and information. It offers various services, such as applying for passports, certificates of good conduct, business registration, paying for government fees, and accessing numerous documents, making government services more accessible and efficient.
You will need to first register on the eCitizen Portal and then you will be able to log in to the platform to check your driving license status and access the driving license renewal services and many other government documents.
A driving license is an official document issued by NTSA that grants the holder the legal right to operate a motor vehicle on public roads. It signifies that the individual has passed the necessary tests to demonstrate driving skills and knowledge of road rules, promoting safe and responsible driving.
In this article, I will show you how to renew your Driving License in Kenya.
NTSA Driving License Renewal Procedures
Before 2014, driving license was issued by banks and Huduma centers, but the government stopped them from issuing driving licenses later. You can request a driving license through the eCitizen platform from anywhere you are. You should know that you cannot own more than one driving license but you can have one driving permit to drive several classes of vehicles. After you have renewed your driving license on the eCitizen portal, you should wait for about 24 hours working days for the status of your driving license to change to valid for those that are renewing because of an expired license.
How Much Does the Driving License Renewal Cost?
To renew and get the three-year driving license, you will be charged Ksh. 3000 and an additional Ksh. 50 for charge fee. The one-year driving license is no longer available.
How to Renew Your Driving License in Kenya
Here is how to renew your driving license in Kenya;
Visit the NTSA eCitizen Portal via this link
Click on Services from the Menu.
scroll down to Driving License Renewal, then click on Learn More under it. This will redirect you to the eCitizen login page.
Log in to your eCitizen account. If you are using the platform for the first time, you should sign up first.
From the menu on the left, Check for National Transport and Service Authority and click on Get Service under it.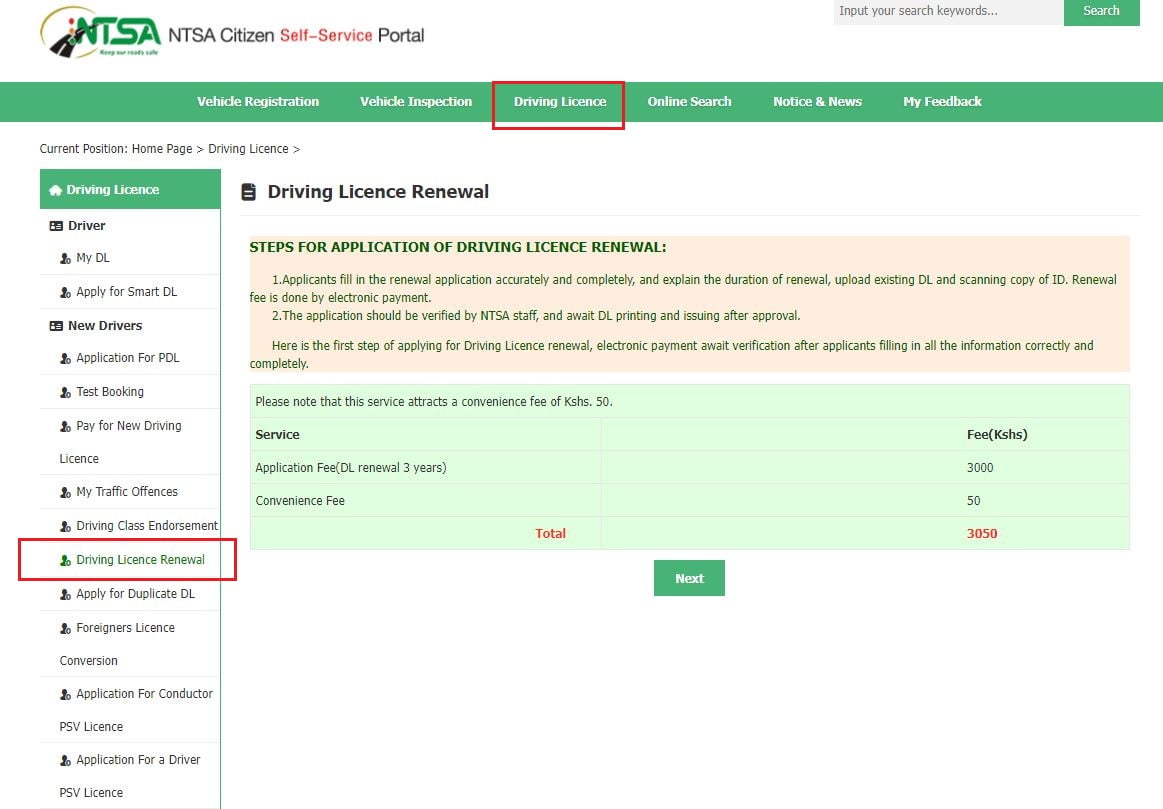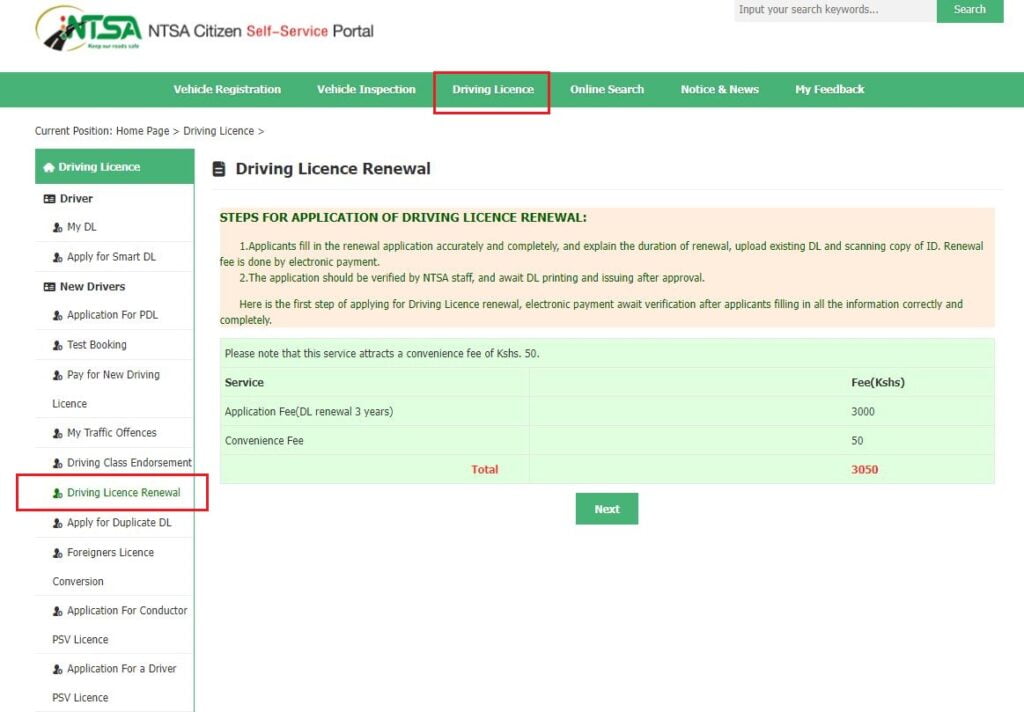 Click on Next, to start the application.
Select the driving license duration you want, one or three years.
Verify that your details are correct and then click on submit.
Choose your mode of payment, and then proceed to make the payment. The three-year driving license costs Ksh. 3000 and a Ksh. 50 charge.
Download and Print the NTSA renewal driving license slip on paper.
After successful payment, you are requested to visit any Huduma Center close to you alongside the license slip printed earlier to do your biometrics and capturing.
Your New driving license should be available within 5 business days, you can visit the Huduma center you did your capturing to collect it.
The smart driving license looks like an ATM card. It comes with a chip that when connected to a license scanner, can provide the driver's information and a points system that is used to encourage discipline among motorists.
The way the points system works is that, when you just request your card, you have 100 points. Anytime you default any road rules, you points. Once you lose points and your points get to 40 which is the threshold, your license will automatically be cancelled.