Safaricom M-Pesa stays in the first position when it comes to mobile money wallets. Today, it seems that there is no Kenyan citizen who does not have an account with M-Pesa. In its mission to help Kenyans access money faster, M-Pesa introduced a new feature called Fuliza.
Fuliza M-Pesa is a service designed to ensure you never find yourself stuck without funds in your mobile wallet. In this article, we will explain how to Fuliza M-Pesa, basically everything you need to know about the Fuliza service.
What is Fuliza M-Pesa?
Fuliza M-Pesa is like having a financial safety net within your M-Pesa wallet. It allows you to complete transactions, even when your M-Pesa balance is running `empty. Picture this: You're about to pay for groceries, and your M-Pesa balance falls short of the total bill. Instead of scrambling for an ATM or borrowing from a friend, Fuliza steps in to save the day. It essentially provides you with a temporary overdraft, covering your transaction and allowing you to repay it later.
How to Fuliza M-Pesa?
"Fuliza" is a popular overdraft service offered by Safaricom's M-Pesa in Kenya. It allows M-Pesa users to complete transactions even when their M-Pesa balance is insufficient, effectively "over-drafting" the account by a specified amount. Here's how to use Fuliza M-Pesa:
Eligibility
The Fuliza service is not available for everybody. Before you will be eligible for an overdraft, there are certain requirements you need to meet. The following are the requirements needed before you can activate the Fuliza overdraft service.
You must have an M-Pesa account.
You must have been an active Safaricom user in the last six months,
If you meet up with the requirement above, you can now opt-in for the overdraft service.
Activate Fuliza
Before using Fuliza, you need to activate the service. To do this,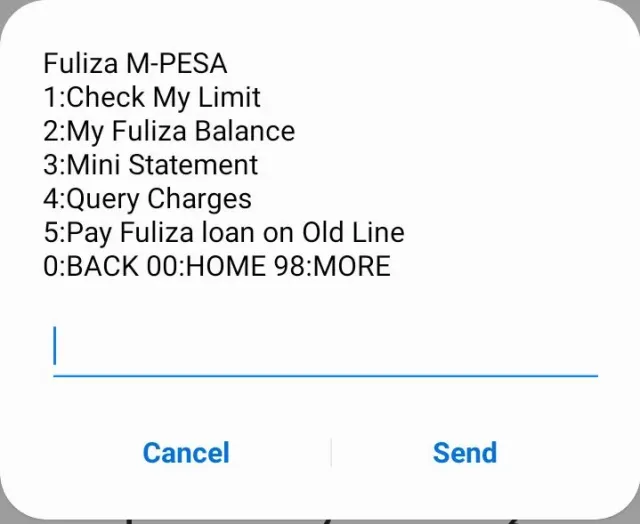 Dial *234# on your mobile phone.
Select Fuliza M-Pesa (option 2).
On the next prompts, select Yes (option 1).
Next, enter 98 (more).
Enter 1 to accept Fuliza M-Pesa's terms and conditions.
You'll receive a confirmation SMS once the service is activated. You will be given an overdraft limit, you can quickly check your limit by dialing *234*5#.
Check Fuliza Limit
After activation, you'll have a specific Fuliza limit based on your M-Pesa usage and creditworthiness. You can check your Fuliza limit by dialing *234# and selecting option 5 to check your Fuliza limit by just dialing *234*5#. You should know that you cannot get an overdraft higher than this. But there is a hack to instantly increase your Fuliza limit. Here is how to check your Fuliza limit or balance.
Complete a Transaction
When making a transaction (e.g., sending money, buying goods or services), if your M-Pesa balance is insufficient to cover the cost, you'll automatically be prompted to use Fuliza to complete the transaction.
Confirm Fuliza Usage:
You'll receive a notification asking if you want to use Fuliza to complete the transaction. Confirm by entering your M-Pesa PIN.
Transaction Completion:
The transaction will be completed using Fuliza, and the amount of the transaction, plus a 1% Fuliza access fee and a small daily maintenance fee, will be added to your Fuliza balance if you do not fund your account the same day.
Repay Fuliza
Fuliza is designed to be a short-term credit facility. To repay, you can either deposit funds into your M-Pesa account or wait until you receive a deposit into your M-Pesa account from any source (e.g., receiving money from others).
When funds are deposited into your M-Pesa account, Fuliza will automatically deduct the outstanding amount from your balance, along with any service fees.
Manage Fuliza
You can check your Fuliza balance and manage your Fuliza account by dialing *234# and selecting the Fuliza option.
It's important to use Fuliza responsibly, as it is essentially a form of credit, and failing to repay Fuliza amounts promptly can lead to additional fees and restrictions on your account.
Fuliza Charges and Tariffs
It's essential to be aware of the fees associated with Fuliza M-Pesa. While the service offers tremendous convenience, these fees can impact the overall cost of your transactions. You should know that Safaricom M-Pesa charges will still be used whenever you make transactions through Fuliza.
Here's a breakdown of the fees you should know about:
Fuliza Access Fee: Each time you use Fuliza to complete a transaction, a 1% access fee is charged. This fee varies depending on the transaction amount and is deducted from your Fuliza balance.
20% Maintenance Fee: Fuliza also comes with a daily maintenance fee. This fee is charged for as long as you have an outstanding Fuliza balance. The longer you keep a Fuliza balance, the more these daily service fees can add up. The table below gives the total fees you will be paying for a given amount of money.
 FULIZA Daily Charges and Tariffs
Band
Tariff
20% Excise Duty
Total Charges
0 -100
KSh 0
KSh 0
KSh 0
101-500
KSh 2.5
KSh 0.5
KSh 3
501-1000
KSh 5
KSh 1
KSh 6
1001-1500
KSh 18
KSh 3.6
KSh 21.6
1501-2500
KSh 20
KSh 4
KSh 24
2501-70000
KSh 25
KSh 5
KSh 30
Conclusion
Fuliza M-Pesa is a valuable tool in the world of mobile financial services. It offers convenience, flexibility, and peace of mind, ensuring you can complete transactions even when your M-Pesa balance is running low. However, it's essential to use Fuliza responsibly, keep track of your Fuliza balance, and understand the associated fees. With these guidelines, you can make the most