M-Kopa is known as a company that offers smartphones and solar kits to individuals on loans. The way it works is that an individual will make an initial payment which is usually about 30% of the cost of the product, receive the product, and then spread the rest of the payment between 3-12 months. Do you know that you can also request cash loans from M-Kopa as well?
In this article, I will guide you on how to get MKopa cash loan, the application process, requirements, eligibility, interest rate, amount limit, payment duration, penalties, and repayment duration and we will try to answer every one of your questions.
Read Also: MKopa Phone Loan
MKopa Loan Eligibility and Requirement
You should understand that the MKopa platform is not like the regular loan platforms that you usually use for payday loans. The platform's main business model is to offer products (most especially smartphones and solar kits) to individuals who are unable to buy them outright. They do not exist solely as a loan company that gives payday, personal, mortgage, student, and every other type of loan. But never the less you can still apply for a cash loan from them, but it's not for everybody.
Below are all of the criteria to be eligible for a cash loan from Mkopa;
Existing Customers Only: To be eligible for Mkopa cash loan, you must have purchased a product from the company. The cash loan is solely available to those who have an active MKopa product (smartphone and solar kit).
3-Month Assessment Period: To qualify for the Mkopa cash loan, you must have purchased your existing smartphone or solar kit and have made the payment for 3 months
Good Repayment History: You must have a good repayment history with your existing Mkopa product before you can access the MKopa cash loans. M-KOPA will conduct a credit check or assessment to evaluate your creditworthiness, and the check will be from the first day you obtained the loan to the last repayment day.
Less Than Two Years: Your existing product from MKopa must be less than two years old. The reason they have to set it to less than two years is that MKopa solar kit payment duration is up to 2 years, so users' data are cleared after two years.
How to Get MKopa Cash Loans
You can get MKopa cash loans in two ways, either via USSD Code or through the MKopa app. You can choose to use the method you prefer, but remember that you must have a registered phone number and an active product.
Read Also: How to pay MKopa Loans
MKopa Cash Loans via USSD Code
To request MKopa cash loans through the USSD Code;
From your registered phone number, dial *685#.
Select option 5, Cash Loan.
You will receive a notification showing whether you are qualified or not.
If you are not qualified for a cash loan, try again after 14 days.
If you do qualify, the notification you received will show you instructions on how to get the cash loan and your loan limit.
Now, you can not enter the amount of loan you want. Make sure the amount you enter is less than or the same as your loan limit.
After entering the amount you want to borrow, the amount will be disbursed to your MPesa account in less than 5 minutes.
If you are unable to identify if you are qualified for a loan or not, you can message MKopa on WhatsApp, and they will help you check if you are qualified or not.
How to Get MKopa Cash Loans Via Mkopa App
You can also get MKopa cash loan via the MKopa mobile app. To do this, follow the following instructions;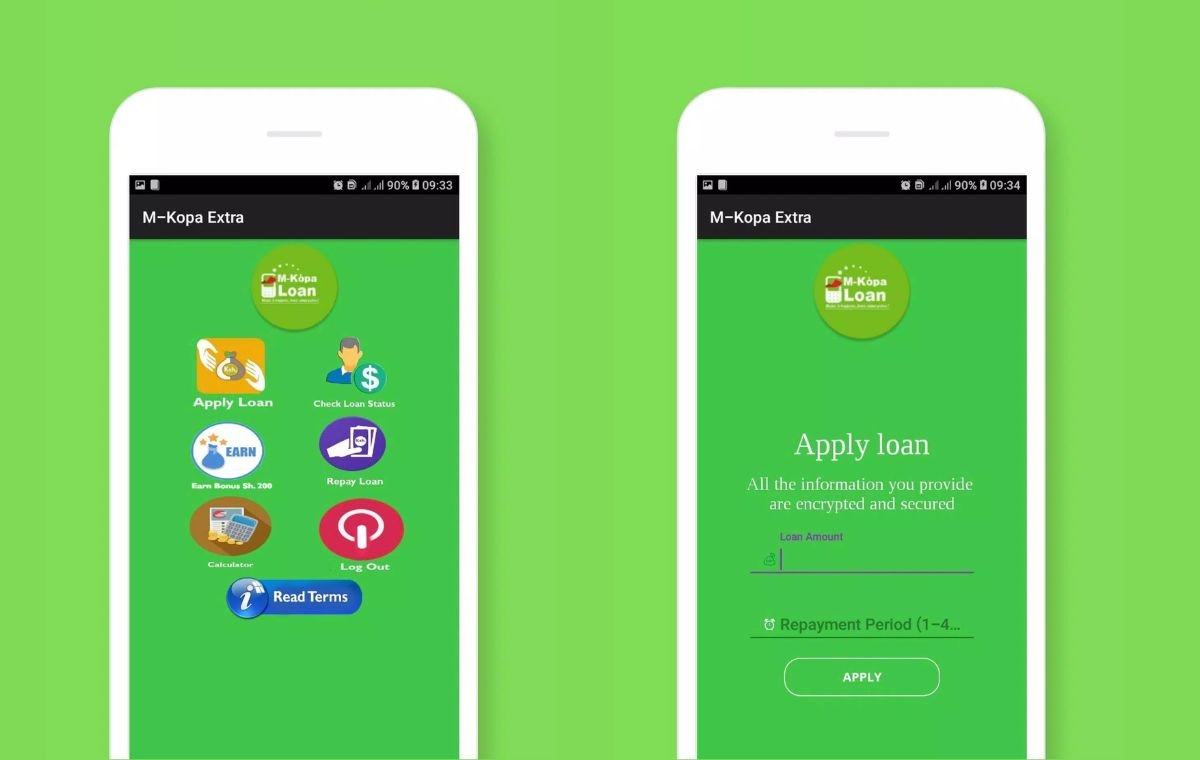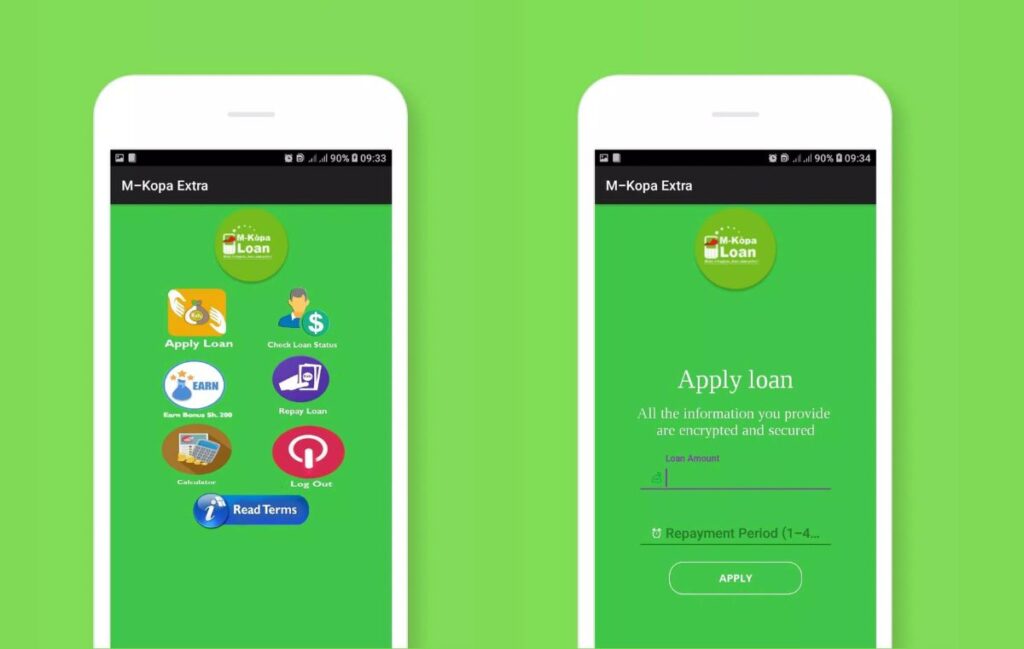 Visit the Google Play store to download and install the MKopa app.
Launch the app for the first time and then log in with your national ID as your account number.
You will receive an OTP code to your registered number. Enter the code on the next page.
If it's your first time using the mobile app, you will be prompted to create a 6-digit PIN.
When you finally get to the homepage, click on Apply Loan.
On the next page, you will be prompted to enter the amount you'd like to borrow and choose the repayment period.
If you are not qualified, the app will display that you are not qualified for a loan, or the amount you enter is more than your loan limit. Your loan limit will be displayed on the screen.
If you are qualified for a loan, the next page will show you details of your loan and the interest you are to pay.
Confirm your loan, and click on Apply.
The loan will be disbursed to your MPesa account within 5 minutes.
MKopa USSD Code
The official USSD code to assess Mkopa Loans is *685#. This is the code you can use to request a phone loan, repay your loans, check eligibility, and do many other transactions.
MKopa Cash Loan Interest Rate
Although MKopa has not revealed its loan interest rate, judging from most users' experience, we can expect that the loan interest is between 3-10% per month. The way it works is that your loan amount will be added to your monthly installment. Let me explain in detail.
So, let's say Mwangi bought a Samsung A33 from Mkopa. His balance on the phone is Ksh 12,000, the amount was spread over the next 6 months which means he pays Ksh 2,000 per month. He borrowed Ksh 5,000. His repayment amount is Ksh 6,500 and he selected a 5-month duration period for the loan.
Interest = Repayment amount – Loan amount
Interest = 6500 – 5000
Interest = Ksh 1,500
The interest is Ksh 1,500, The loan is spread over 5 months, which means the monthly interest is Ksh 300. Then we can calculate the monthly interest rate.
Monthly Interest = 1500/5 = Ksh 300
Monthly Interest Rate = 300/5000 X 100 = 6%
Therefore the monthly interest is 6%. The interest might be different for you but is between 3 – 10% depending on your loan duration. So, Let's calculate the total amount Mwangi will have to pay monthly.
The amount he will pay for this cash loan monthly will be Ksh 1,300 (6500/5), and his monthly payment for his Samsung Galaxy A33 is Ksh 2,000. Therefore, Mwangi's new monthly payment is Ksh 3,300 for the next 5 months, and then Ksh 2,000 in the sixth month.
MKopa Cash Loan Amount Limit
The MKopa Cash minimum loan amount is Ksh 5,000, and the maximum loan amount is Ksh 7,000. You should know that the loan limit is determined by the MKopa system which checks for your credibility by evaluating your repayment history and the duration of your existing Mkopa smartphone or solar Kit and other factors.
MKopa Cash Loan Repayment Duration
You can spread your Mkopa Cash loan between 2 – 32 weeks. The loan duration will not exceed the last repayment date of your existing MKopa product.
MKopa Cash Loan Late Repayment Penalties
When you are unable to repay your loan at the stated date, your smartphone or solar kit will be locked. The repayment penalty is just the same as the penalty for the smartphone and solar kit. That is why MKopa only gives loans to existing customers, that is, customers who purchased a smartphone or solar kit.
MKopa Contacts
Whatsapp- +254 799 136761
Phone Number: +254 (0) 707 333 222
Email: [email protected]